Posted on: August 30, 2023, 12:38h. 
Last updated on: August 30, 2023, 12:38h.
Political betting market PredictIt has recently expanded its offerings, capitalizing on a recent legal victory over federal regulators.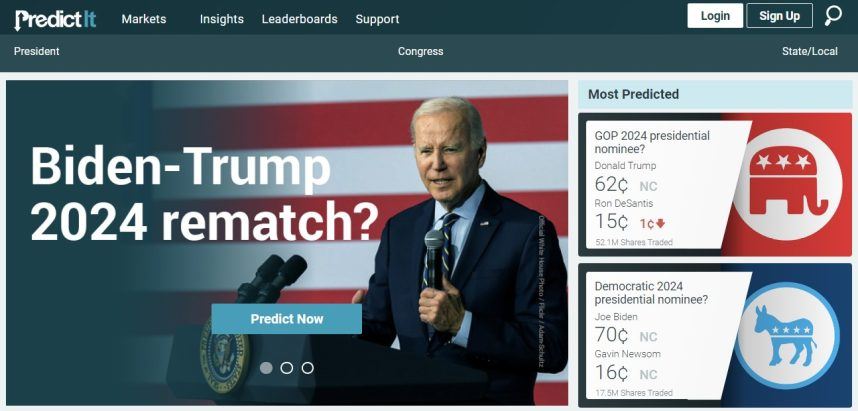 In late July, PredictIt was allowed to continue operating as it appealed the Commodities Futures Trading Commission's attempts to shut it down. The US Fifth Circuit Court of Appeals panel ruled 2-1 in favor of PredictIt and its users, signaling a likely victory. The United States District Court for the Western District of Texas will determine the final outcome, but a schedule has not been set yet.
PredictIt initially restricted new wagers to focus solely on the 2024 presidential election. However, that is changing as the platform introduces eight new markets centered around the Republican primaries and various statewide contests.
New Betting Markets
The first upcoming event is the Kentucky governor's race in November, where incumbent Gov. Andy Beshear is favored to win among traders. As of Wednesday, shares for a Democratic victory were priced at 68 cents.
PredictIt traders also believe that former President Donald Trump will win the Iowa caucus and the New Hampshire primary, with shares for a Trump victory trading at 70 cents and 72 cents respectively.
In Iowa, Florida Gov. Ron DeSantis is expected to finish in second place, with shares priced at 36 cents.
Additionally, users can now bet on who will become the Republican nominee for vice president. The market is divided, with entrepreneur Vivek Ramaswamy leading at 17 cents, followed by South Dakota Gov. Kristi Noem at 14 cents, South Carolina Sen. Tim Scott at 13 cents, and former South Carolina Gov. Nikki Haley at 10 cents.
2024 General Election Markets
PredictIt is also accepting bets on specific states' presidential ballots and one Senate race as a preview of the 2024 general election.
According to PredictIt users, the Democratic presidential nominee is favored to win in both Wisconsin and Georgia, with shares for each state priced at 58 cents on Wednesday.
The first congressional contest available for betting is the unusual Arizona Senate race. Incumbent Sen. Kyrsten Sinema left the Democratic party and has not confirmed whether she will seek reelection as an independent. Democratic Rep. Ruben Gallego is the frontrunner for his party's nomination, while former Gov. Kari Lake, aligned with Trump, is "seriously considering" a bid for the GOP nomination.
In Arizona, PredictIt users are favoring Democrats, with shares trading at 53 cents for a Democratic win, 34 cents for a Republican win, and 12 cents for an Independent victory.