Posted on: April 26, 2023, 08:42h. 
Last updated on: April 26, 2023, 08:42h.
President Joe Biden on Tuesday confirmed that he will seek another four years in the White House and will presumably be the Democratic Party's 2024 presidential nominee.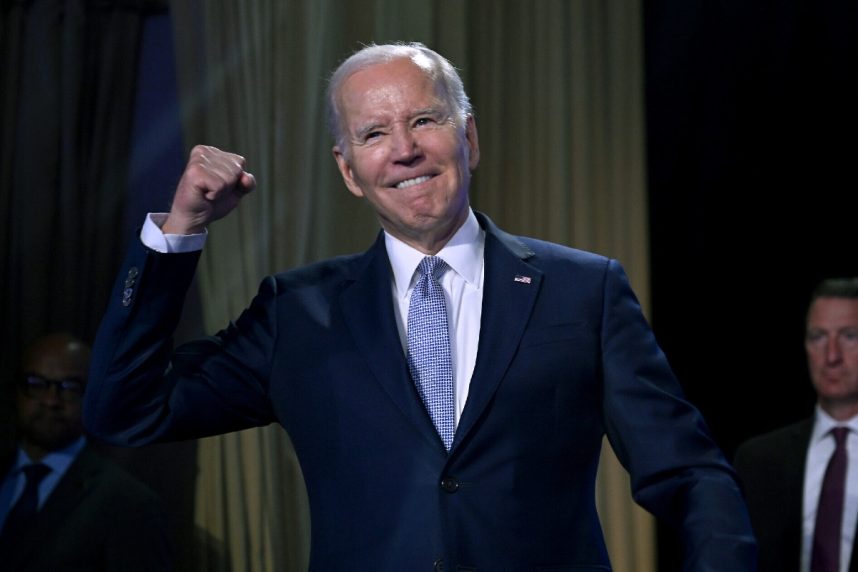 Though there was some speculation during the first two years of Biden's presidency that party leaders would encourage the now-80-year-old to step aside, the Democrats have seemingly rallied behind the president over the past six or so months. Biden's approval rating, according to Gallup's latest monthly poll, has improved from a 38% approval rating low last July to 40% last month.
We, you, and I — together we're turning things around and we're doing it in a big way," Biden declared in announcing his 2024 campaign. "It's time to finish the job."
Biden said that the country is "in a battle for the soul of America" and made the claim that he's the best person to lead the Democrats' offensive and continue serving as commander-in-chief.
"The question we are facing is whether in the years ahead we have more freedom or less freedom. More rights or fewer," the president stated. "Let's finish this job. I know we can."
Odds Shift in President's Favor
Biden's reelection announcement didn't come as much of a surprise, though the news prompted some political bettors into buying shares of the president winning come November 2024.
PredictIt, the online betting exchange that allows users to buy and sell shares of potential political outcomes, with winning shares redeemed at $1 each once the market is settled, saw Biden's 2024 stock climb three cents on his campaign news.
The president's shares are now trading at 49 cents on the platform's market asking, "Who will win the 2024 US presidential election?" Former President Donald Trump, who confirmed his 2024 presidential campaign last November, is second at 34 cents.
Florida's Republican Gov. Ron DeSantis is third at 16 cents. VP Kamala Harris and California's Democratic Gov. Gavin Newsom round out the top five at six cents.
With Biden officially running, the president is the heavy betting favorite to secure his party's ticket. PredictIt bettors have Biden's shares of being the Democratic presidential nominee at almost 80 cents.
Biden will need to fend off at least two Democratic challengers. Robert F. Kennedy Jr., the son of the late US Attorney General and Senator from New York, Robert F. Kennedy, has formally entered the race. And so has perennial Democratic presidential candidate Marianne Williamson.
Newsom would presumably be Biden's greatest threat, though it's unclear whether the California governor will enter the race. However, Newsom has been crisscrossing the nation of late touting his self-proclaimed achievements in California.
History Repeats
Political bettors are currently strong believers that the US is headed towards another Biden versus Trump showdown. Trump is the betting front-runner in the PredictIt market about who will emerge as the party's 2024 nominee at 59 cents. DeSantis is a distant second at 26 cents.
Biden and Trump already have the distinction of being the USA's oldest and second-oldest presidents. Biden was 78 years, 61 days old when he was inaugurated on Jan. 20, 2021. Trump was 70 years, 220 days old when he became the Oval Office occupant on Jan. 20, 2017.