Posted on: August 3, 2023, 11:07h.
Last updated on: August 3, 2023, 11:07h.
The massive wildfire that has expanded from California into Nevada is about 63% contained as of Thursday morning, officials reported.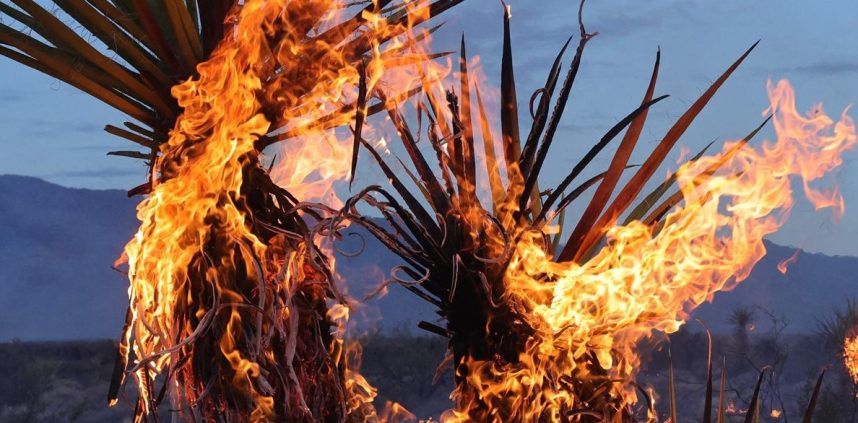 That is a major increase from about one-third of the blaze reportedly being contained as of Wednesday night.
It now involves 96,732 acres, according to recent news reports. That includes some 8,580 acres located in Southern Nevada, according to Las Vegas TV station KSNV.
Called the York Fire, officials predict that by August 14 it will be completely contained. But in the next few days it is expected to move to the northeast.
It is California's largest fire so far this year.
Numerous firefighters are stationed at the fire in the region and are assigned to contain and suppress the blaze.
Rain Helped Out
Recent monsoonal rain assisted in firefighters' efforts to contain the wildfire especially in the southern end of the blaze, the Associated Press reported.
Over the next few days, weather conditions are expected to be dry in the impacted regions of California and Nevada.
There are ecosystem concerns about the wildfire, too. At risk are the iconic Joshua trees located in the path of the wildfire. Many were burned already.
Fire whirls, also known as fire tornadoes, were seen in California's Mojave National Preserve during the fire.
They are explained as "a vortex of flames and smoke that forms when intense heat and turbulent winds combine, creating a spinning column of fire," the Mojave National Preserve said in a statement quoted by CNN. They can pose a danger to firefighters.
The environmental impact on the Las Vegas valley was evident earlier this week.
Lower visibility caused by smoke and haze from the wildfire led to some flight delays at Harry Reid International Airport.
Various areas in Clark County also saw worsening air quality from smoke. These included such communities as Sunrise Manor, neighborhoods near Interstate 515, Spring Valley, Green Valley, and Boulder City.
Medical Impact
Todd Kuhnwald, a physician's assistant with Las Vegas-based MK Medical, earlier this week told Las Vegas TV station KLAS, his office was seeing patients suffering from fire-related illnesses.
The smoke in the air is affecting our patients personally so we've had patients come in with asthma exacerbations, trouble breathing, sore throats, headaches, nausea, shortness of breath," Kuhnwald told KLAS.
The fire also led to the temporary closing of State Road 164 in Searchlight, Nev. on Sunday because of the wildfire.
A regional utility company, NV Energy, assigned its crews to remove dry grass and brush around utility poles and other infrastructure to reduce the risk of fire damage. The poles also were wrapped with fire-resistant mesh, according to Las Vegas TV station KVVU.
The blaze began at about noon last Friday in California's Mojave National Preserve. It made its way into Nevada's Clark County on Sunday.