Posted on: September 6, 2023, 09:47h. 
Last updated on: September 6, 2023, 09:47h.
Los Angeles Rams star wide receiver Cooper Kupp suffers setback in injury recovery, raising concerns over his availability for the beginning of the season. Kupp, 30, visited a specialist in Minnesota for further evaluation on his hamstring injury.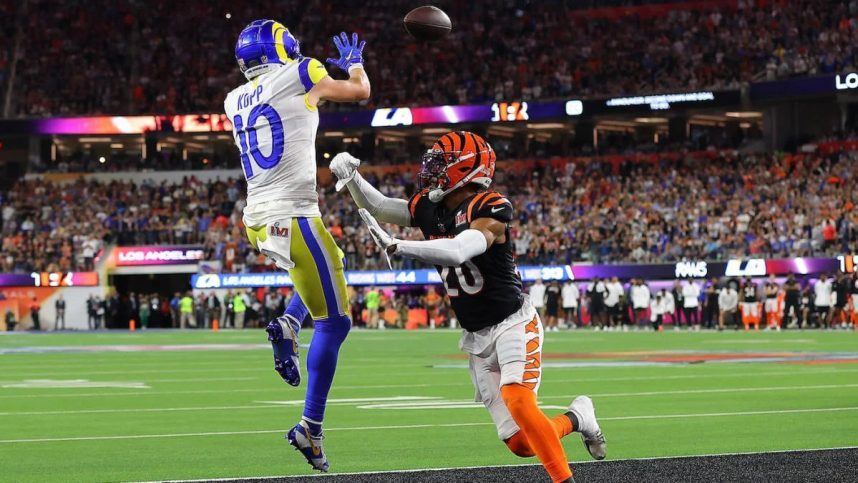 The Rams have listed Kupp as "day-to-day" in their official statement but the star receiver's prolonged absence suggests a more serious concern. Kupp's presence in Week 1 against the Seattle Seahawks is now questionable, which has implications for fantasy football and sports betting.
"We're hopeful that this will give some clarity once he goes and talks to these doctors," said Rams head coach Sean McVay. "Because it doesn't fall in alignment with some of the things that have ended up occurring relative to the standard strains of the hamstring, just based on what's occurred over the last month and a half."
While the Rams remain tight-lipped about the specifics, there have been rumors that Kupp's injury extends beyond a typical hamstring strain, possibly involving sciatica nerve issues. The team is eagerly awaiting the results of Kupp's consultation with the specialist.
In the meantime, the Rams will have to rely on their depth at the wide receiver position. Van Jefferson, Tutu Atwell, Demarcus Robinson, and rookie Puka Nacua could all see increased playing time in Kupp's absence.
Betting Outlook without Kupp
The Rams face an uphill battle as they seek improved success this season. After a disappointing 5-12 record last year, they are not expected to make significant strides, especially without their star receiver.
Currently, the Rams' win total for the season is set at 6.5, slightly higher than their previous five-win campaign. Making the playoffs is a long shot, with odds of +310, while the odds for missing the playoffs for the second consecutive season stand at -380.
Within the NFC West, the Rams are given +1000 odds to come out on top. Their chances of winning the Super Bowl are slim at +8000, and their odds to win the NFC Championship are set at +4500.
In terms of their upcoming games, the Rams are considered underdogs in their first three matchups. As they face the Seattle Seahawks in Week 1, they are listed as +5.5 road underdogs. In Week 2, hosting the San Francisco 49ers, they are +4.5 home dogs, and for their Week 3 showdown with the Cincinnati Bengals on Monday Night Football, they are listed as +7.5 underdogs.