Posted on: August 19, 2023, 09:23h. 
Last updated on: August 19, 2023, 11:09h.
Washington Commanders head coach Ron Rivera confirms Sam Howell as starting quarterback for season opener against Arizona Cardinals in Week 1.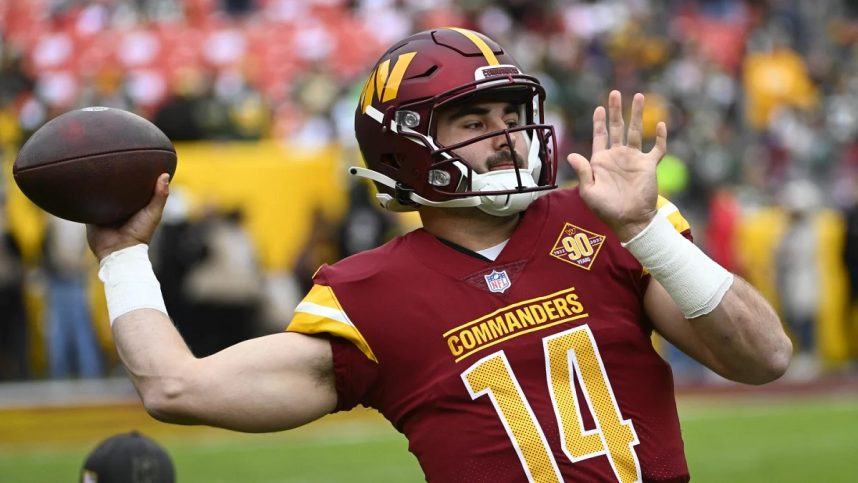 With this decision, Howell becomes the sixth starting quarterback since Kirk Cousins left Washington in 2018.
Last season, the Commanders finished 8-8-1 and narrowly missed an NFC playoff spot, as three teams from the NFC East secured spots. Notably, the NFC East had no teams with a losing record in 2022.
The NFC East champion Philadelphia Eagles (14-3) secured the #1 seed and a first-round bye in the playoffs but lost to the Kansas City Chiefs in Super Bowl LVII. The Dallas Cowboys (12-5) clinched the #5 seed, and the New York Giants (9-7-1) grabbed the #6 seed as Wild Card teams.
Howell's Previous Performance
Sam Howell, selected by the Commanders in the 2022 NFL Draft, received his first start in Week 18 of his rookie season.
In that game against the Dallas Cowboys, Howell completed 57.9% of his passes for 169 yards with one touchdown and one interception. Additionally, he rushed five times for 35 yards and a touchdown, becoming the first Washington quarterback in a decade to achieve this feat in a game.
After evaluating Howell's performance, head coach Ron Rivera commented, "It is about the QB making plays they're supposed to make, and every now and then when you need a big play, make a big play."
In the final game of the season, Howell led the Commanders to a decisive 26-6 victory over the Cowboys, spoiling their bid for the NFC East title.
Commanders' Betting Odds
The Commanders' head coach, Ron Rivera, enters his fourth season with a record of 22-27-1. Despite his tenure, the team has not posted a winning season since Rivera took over in 2020.
Oddsmakers have set the Commanders' win total at 6.5 over/under, with -120 odds for the under and even money (+100) for the over.
In terms of making the playoffs, the Commanders are listed at +300 odds, while the odds of missing the playoffs for a third consecutive season under Rivera are -370.
Regarding their chances of winning Super Bowl LVIII, the Commanders are listed at +6500 odds, and their odds of winning the NFC Championship are +4000.
In the NFC East, the Philadelphia Eagles are the favorites at -135 odds, followed by the Dallas Cowboys (+190), the New York Giants (+850), and the long-shot Commanders (+1600).
As for other NFL teams, the Indianapolis Colts have named rookie Anthony Richardson as their Week 1 starting quarterback, while the Tampa Bay Buccaneers have yet to name their starter (with Baker Mayfield as the likely candidate over Kyle Trask).