Posted on: August 25, 2023, 09:28h. 
Last updated on: August 25, 2023, 09:28h.
FanDuel Becomes First Major US Sportsbook to Offer Pickleball Wagering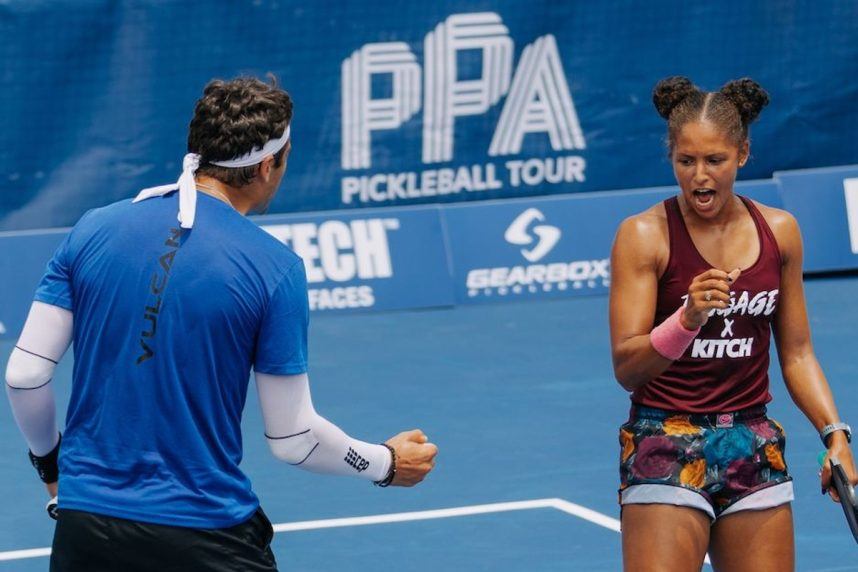 FanDuel Sportsbook now offers legal wagering on pickleball, becoming the first major sportsbook in the US to do so.
Since August 24, bettors on FanDuel Sportsbook can place bets on pickleball tournaments on the Professional Pickleball Association Tour (PPAT), the elite tour for professional pickleball.
In addition to betting on match winners and correct match scores, bettors can make wagers on total points (over/under) and head-to-head matches. FanDuel's pickleball lines are currently available in several states, including Colorado, Connecticut, Illinois, Louisiana, Maryland, Michigan, Oregon, Tennessee, Washington, and Wyoming.
More states are expected to approve pickleball wagering on FanDuel in the future.
According to PPA Tour Founder and CEO Connor Pardoe, "This is a monumental moment for the PPA Tour and the game of pickleball as a whole. We are excited to be paving the way in the pickleball sports betting space, and we couldn't be prouder to lead the sport's leap into such an innovative industry."
Pardoe believes that allowing fans to bet on pickleball will contribute to the growth of the sport, which has experienced significant growth in recent years and has become one of the fastest-growing sports in the US.
With approximately 36.5 million pickleball players in the US and participation increasing by nearly 160% in the past three years, pickleball has gained popularity across all age groups, particularly among players aged 18-34.
Official Pickleball Data Stream
To ensure sportsbooks have the most up-to-date and accurate information, the PPAT has partnered with Genius Sports, a leading sports data firm, to provide a real-time data stream to participating sportsbooks.
Genius Sports not only serves as a statistical feed to sportsbooks for pickleball, but also offers "low latency" streaming footage of PPAT matches. Sportsbooks can enhance user engagement by providing this streaming content to their bettors.
To ensure the integrity of the games, the PPAT has partnered with Sportradar, a prominent monitor of sports betting activity. Sportradar's bet monitoring and detection services are employed by over 160 sportsbooks and gaming firms worldwide.
The PPAT has also established a Sports Betting and Integrity Policy that all players, officials, and staff must adhere to. Additionally, all individuals involved in PPAT events are required to complete an online course to familiarize themselves with the sports betting policy.
Pickleball Coming to Las Vegas
The PPA Tour, sponsored by Carvana, a leading online used car retailer, has paid a record $5.5 million in purses last year.
The 2023 PPA Tour includes 25 events across the country, with the upcoming Guaranteed Rate PPA Championships Presented by Thorlo taking place in Las Vegas next month from October 5-8 at the Darling Tennis Center in Summerlin.
All-Star Week at Mandalay Bay
In December, the PPA Tour returns to Las Vegas for All-Star Week at Mandalay Bay. Taking place from December 14-17, this tour stop will be broadcast live on the Tennis Channel.
With the rising popularity of pickleball, more and more Las Vegas guests are seeking out pickleball courts during their stays. Several parks around Las Vegas, including Sunset Park southeast of Harry Reid International Airport, feature pickleball courts for enthusiasts to enjoy.
For those looking for a unique pickleball experience, the downtown Plaza Hotel Casino offers one of the largest pickleball complexes with 12 permanent courts located at the rooftop pool complex.