Posted on: September 12, 2023, 04:40h. 
Last updated on: September 12, 2023, 04:40h.
The 2023 college football season is just two weeks old, but sportsbook operators are already experiencing a negative impact due to the resurgence of the Colorado Buffalos, led by coach Deion "Primetime" Sanders.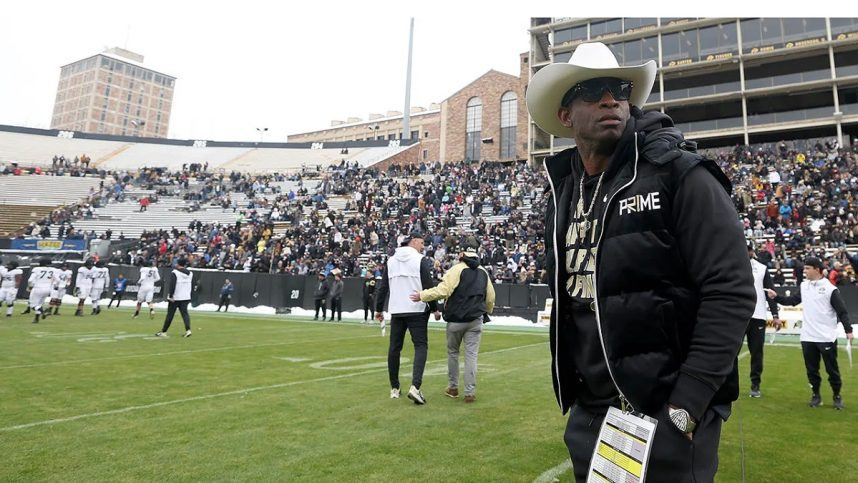 In a client note today, Macquarie analyst Chad Beynon estimated that college football betting made up around 30% of all football bets last week, with the NFL accounting for the remaining 70%. According to Beynon, the Buffalos' success and the media attention surrounding them have posed challenges for sportsbook operators in the first two weeks of the season.
The 'Deion Sanders effect' continues for the second consecutive week. In his first year as head coach of the University of Colorado, Deion has generated significant social media buzz around the team," wrote Beynon. "As a result, their game against Nebraska attracted as much betting activity as the primetime Texas/Alabama game.
Colorado has been a thorn in the side of sportsbooks, easily covering the spread against Nebraska and exceeding the total points (recreational bettors generally prefer higher-scoring games). This came after the Buffalos pulled off an outright upset as 20.5-point underdogs against TCU last week.
Beynon noted that approximately 80% of the betting public supported Colorado last week. Another problem for sportsbook operators was the Texas moneyline exposure, as the Longhorns upset Alabama on the road.
NFL Provides Relief for Sportsbook Operators
While Deion Sanders' Colorado team has been causing headaches for sportsbook operators over the past two weeks, gaming companies experienced some relief during the first week of NFL action.
Beynon estimated that during the first week of the NFL season, gaming companies saw a 13% hold on sides and a 9% hold on totals. This was aided by 73% of games going under the total, which likely negatively impacted single-game parlays (SGPs). Furthermore, road teams going 12-3 against the spread likely benefited operators.
"Our model estimates that the total sports betting market hold for the week of September 4-10 reached 8%, assuming an 8% hold for football and a 9% hold for all other sports," added Beynon. "As a general rule, every 100 basis points of hold above or below the long-term average contributes or subtracts approximately 14% (or 1,400 basis points) of incremental gross gaming revenue (GGR) growth in sports betting."
According to Macquarie, Flutter Entertainment's (OTC: PDYPY) FanDuel led the market in hold percentage last month in New York, the largest sports wagering market in the country, with a hold rate of 10.3%. BetMGM followed closely with a hold rate of 9.2%, while WynnBET held at 8.9%.
Q3 Hold Looking Promising
With less than three weeks remaining in the third quarter, it is worth noting that overall industry hold has been solid.
"The market hold has been strong year-to-date at approximately 10%, but with monthly volumes increasing by about 70% in September, there is still much to be determined," said Beynon. "However, we believe that the rise in popularity of NFL SGPs helps to establish a minimum hold rate for operators that receive significant SGP volume. We also caution that last September had a very high market hold of almost 12% due to favorable game outcomes, so expectations for sequential revenue growth again this year in the third quarter may disappoint given that volumes are typically slightly lower in the third quarter compared to the second quarter."
The analyst sees the recent pullbacks in sports betting stocks as buying opportunities. He has "outperform" ratings on seven gaming equities, including sportsbook operators DraftKings (NASDAQ: DKNG) and Rush Street Interactive (NYSE: RSI). His price targets for these stocks imply upside potential of 20% and 16%, respectively.