Posted on: April 3, 2023, 11:40h. 
Last updated on: April 3, 2023, 11:52h.
Studio City, a sprawling casino and entertainment resort on Macau's luxurious Cotai Strip, is ready to debut its newest attraction, an indoor water park that will be open 365 days a year. The facility will welcome its first guests this Thursday, April 6.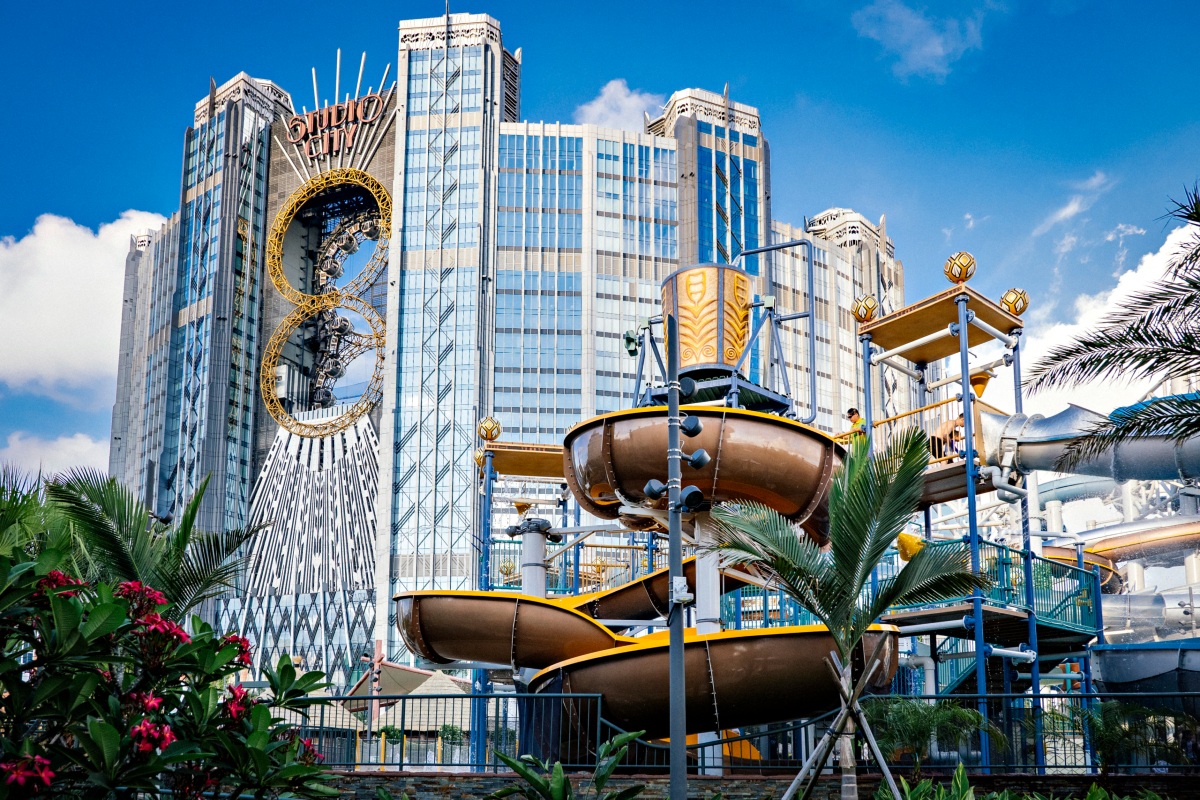 Studio City is owned and operated by Hong Kong-based Melco Resorts. Melco's second integrated resort in Macau after City of Dreams, Studio City is a Hollywood-themed property that, unlike its nearby competitors, has long focused more on the family than the high roller.
Melco opened Studio City's outdoor water park in May 2021. The casino is now ready to bring the water park's all-weather indoor component online. The facility, located in the rear of the resort adjacent to the Studio City Event Center, includes 16 water attractions, with seven water slides, two wave pools, and an "Oblivion Pool" that extends both indoors and outdoors.
A surfing simulator, a 246-meter rapids course, an artificial rock climbing wall, and a diving pool are additionally featured. The indoor water park is a part of Studio City's "first stage" of the casino's "second phase" expansion.
Melco has a strong track record of contributing to Macau's ongoing development as a world center of leisure tourism," Melco Resorts' CEO and Chair Lawrence Ho said of the development. "Studio City Phase 2 reaffirms our ongoing commitment to the city and contributes to reinforcing Macau's non-gaming proposition in Asia and internationally."
Melco Resorts was founded through the dissolution of Melco International and Crown Resorts' partnership called Melco Crown Entertainment. Ho severed from Crown's James Packer in 2017 after Crown was targeted by the Chinese government for advertising its Australian gaming operations to Chinese people.
Nongaming Initiatives
Macau issued fresh 10-year gaming licenses to its six casino operators late last year, but the concessions came with costly guarantees that each firm would invest significantly into nongaming projects.
The six gaming giants, Sands, MGM, Wynn, SJM Resorts, and Galaxy Entertainment being the five other licensees, agreed to collectively spend $13.5 billion on amenities and resort improvements unrelated to their casino floors. Melco's nongaming share responsibility is roughly $1.24 billion.
Along with the indoor water park, Studio City's first phase of its second expansion development includes a new hotel tower. Called the Epic Tower, the new hotel features 338 suites.
Since the Studio City expansion was announced prior to Melco receiving its new gaming license, the indoor water park and Epic Tower won't count against the company's $1.24 billion nongaming commitment.
Mass Market Appeal
Macau, the world's richest casino market prior to COVID-19, today presents a substantially different operating climate for the six casino operators.
VIP junket groups that had kept Macau's high-roller rooms bustling for many years have largely been forced out by the Chinese government in Beijing. China President Xi Jinping's administration concluded that junkets wrongly marketed gaming to the mainland's wealthiest gamblers and helped them move large amounts of money from the Communist Party's oversight through the tax haven of Macau.
With far fewer higher rollers regularly in town, the casinos are refocusing their efforts on the mass market. While those patrons typically gamble less, the casinos don't offer nearly the same incentives to the general public, allowing the properties to generate better margins.
Analysts say Macau's attempt to follow Las Vegas in pivoting from a gambling-first destination to a more well-rounded entertainment and convention epicenter might not be a smart bet.
"For the past 20 years, none of the operators have managed to establish any significant progress in nongaming," Ben Lee, a gaming analyst focused on Macau and Asian markets, said in January. "Contrary to the vaunted Las Vegas model, nongaming in Asia does not carry the same profit margin, as spending behavior is quite different here."