Posted on: May 6, 2023, 11:09h. 
Last updated on: May 6, 2023, 11:09h.
Although there are not any legal betting markets on the HBO series "Succession," Roman Roy is the hypothetical favorite at +250 odds among his siblings to take control of the family business after the death of their father earlier this season.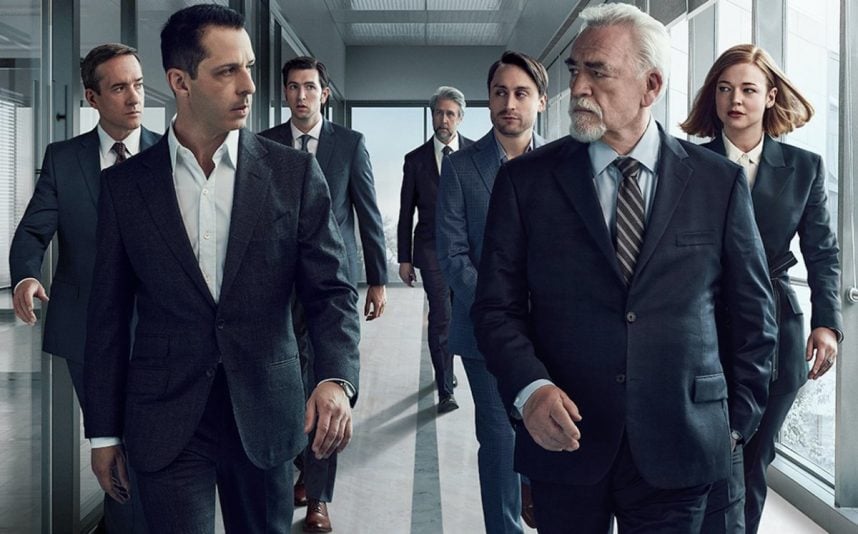 Only four more episodes remain in the fourth and final season of the HBO hit drama. "Succession" fans are wondering which member of the Roy clan will take control of the family company, Waystar Royco, after the death of their patriarch, Logan Roy (Brian Cox).
VSIN asked DraftKings to provide hypothetical odds on who will emerge as the successor on "Succession." Because there's intimate knowledge of how the final season ends, gambling regulators will not accept wagers on scripted television shows. Any odds that you can find are for entertainment purposes only.
There are some betting markets that occasionally accept novelty bets on awards shows, like the Oscars. Most recently, the WWE made a big push for states to legalize betting on their events even though pro wrestling matches are scripted and choreographed.
Waystar Royco Gets Sold +200
The evil Swede looms large. At the end of last season, Logan agreed to sell his company to Lukas Matsson (Alexander Skarsgård), a young tech billionaire from Sweden. Matsson is a micro-dosing savant that loves to share non-PC memes as a well-known social media troll. He's an amalgam of real-life characters like Elon Musk and Daniel Ek from Spotify.
Logan passed away on his private jet while attempting to fly to Europe to finalize the deal with Matsson. The board of directors wants to continue the sale, but Logan's children are conflicted on continuing the sale.
The outright betting favorite is that none of the Roy children will ascend as the Logan's successor because the company will get sold to Matsson. There is a strong chance either Matsson or someone on the Waystar Royco executive committee will take over. That includes head legal counsel Gerri Kellman (J. Smith-Cameron), CFO Karl Muller (David Rasche), or COO Frank Vernon (Peter Friedman).
Roman Roy +250
Roman Roy (Kieran Culkin), the youngest of the siblings, spent most of his career in Hollywood keeping an eye on Waystar Royco's film studio. His personal politics are most aligned with Logan, and he emerged as a late favorite to take control of the company over his older siblings.
Roman's sexual proclivities got him in trouble with his father. He fosters an unusual attraction to his mentor Gerri, who is Waystar's top lawyer and almost twice his age. He attempted to send her a picture of his penis during a meeting, but accidentally sent it to his father instead. A furious Logan thought Roman was a pervert, which knocked him down a couple of pegs in the pecking order last season.
Roman redeemed himself by brokering a deal with Matsson to buy the family company, which got him back in the good graces of Logan. Roman is the second-overall betting favorite, but leads all of his siblings at +250 odds. However, Roman might be in some hot water after he fired two female executives in the previous episode including a studio head and Gerri.
Kendall Roy +300
Kendal Roy (Jeremy Strong) is technically the second-born son, but he was groomed to take over the company because the first-born son, Connor Roy, had no interest in following in his father's footsteps.
Kendall has no shortage of demons and vices, but he's currently clean and sober and poised to take over the company. He spent earlier seasons as a main rival to Logan, and tried to wrestle away control of the company in multiple failed coup attempts.
Kendall sounds like he's a savvy businessman, but he's an empty suit who is armed with an arsenal of buzz words and sounds like a walking and talking TED Talk. He does not have a winning track record, and his actual business decisions faltered. His father helped him cover up an accidental death in the first season.
Kendall and Roman are currently co-CEO's of Waystar Royco, and the two both heading down the final stretch as the betting favorites among their other siblings. Kendall ended the previous episode on a high note, and he closed the gap at his bother at +300 odds.
Shiv Roy +500
Logan's only daughter, Siobhan "Shiv" Roy, is played by Australian actress Sarah Snook. Shiv is the smart one in the family, yet she reeks of entitlement. She lacks the business acumen of her brothers because she spent most of her adult life maintaining a huge distance from her right-wing father.
In the first episode of the series, Shiv is high-end political consultant for a Bernie Sanders-like extreme left-wing politician. Shiv's politics vastly differ from her father, but there was a moment earlier in the show when Logan considered picking his daughter to succeed him instead of his sons.
Shiv made a big push in the final season to put herself in contention, which is why she's +500 odds. She has become a horse whisper to Matsson, who suggested she's more like her father than she realizes.
Connor Roy +1200
Connor Roy (Alan Ruck) is first-born son of Logan Roy. His mother was Logan's first wife and the two had a bitter breakup that eventually landed her in a psychiatric institute. Connor had thorny relationship with his father, and the two did not see each other for several years while he began a new family with his second wife.
Connor has never been a part of the family business, but he's reaped the financial rewards of Logan's success. He lives on a massive ranch in New Mexico and spends his time as a Napoleonic historian. He collects overpriced artifacts like Napoleon's penis. Unlike his siblings, he never competed with them for his father's attention because he knew it would never come to fruition.
Connor embarked on a Presidential run as a third-party candidate due to his staunch anti-tax and anti-big government sentiments. He also married a former high-end prostitute, and the nuptials were interrupted by the death of his father.
Connor Roy's odds should be much higher than +1200 because he really has no desire to run the company.
Tom Wambsgans +1500
Tom (Matthew Macfadyen) is an outsider and originally from Minnesota. He married Shiv and ingratiated himself into Logan's inner circle. He's a smarmy sycophant who ascended the ranks to a high-level position at ATN, which is the show's ultra-right wing, stand-in for Fox News.
Prior to Logan's death, he was about to install Tom as the head of ATN even though Tom and Shiv were breaking up and headed toward a divorce toward the end of the final season.
Tom earned Logan's respect for his loyalty after he willing to go to jail and take the heat for a potential scandal. As a loyal lieutenant, Tom also blew the whistle on a coup led by Shiv and her brothers at the end of the third season. Tom's future is in doubt after Logan died along with the impending divorce from Shiv.
Tom has better survivor skills than his wife and brothers-in-law, but he's a long shot to take the throne on "Succession" at +1200 odds.
Now, if they had a betting market on a potential "Succession" spinoff, Tom would be a favorite to star in a new series. He took Cousin Greg under his wing in the first season, and they two are the comic relief of the series. The two actors have the best on-screen chemistry in the entire cast, which is why fans are hope Tom and Cousin Greg are a part of a future spinoff.
Cousin Greg +2500
Cousin Greg (Nicholas Braun) is the grandson of Logan's brother, who resides in Canada and loathes what's become of Logan and how he helped ruin American democracy with his Fox News-stand in ATN News. Although Greg's personal politics aligns with his grandfather, he's enjoyed the perks of the opulent lifestyle of the Roy clan.
On the surface, you can view Cousin Greg as a clever story telling device as the newly arrived "fish out of water" trying to navigate this dysfunctional family and cutthroat business world filled with sharks. Yet, "Chekhov's gun" theory comes to mind. Why introduce Cousin Greg as a character in the first episode if he's not going to be a legitimate rival to the throne?
Do not count out Cousin Greg, who is one of the long shots on the "Succession" board at +2500 odds.