Posted on: April 20, 2023, 06:02h. 
Last updated on: April 20, 2023, 06:02h.
News broke this week that the FBI has launched an inquiry into a suspected hate crime where a swastika was carved on the back of a Jewish special needs student at a Clark County high school last month.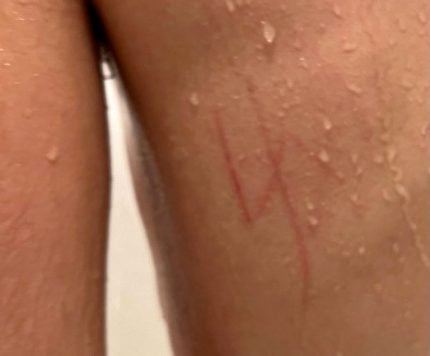 The swastika, which was the symbol of the Nazi government of Germany before and during World War II, was discovered by the 17-year-old Las Vegas boy's mother on March 9, according to national Jewish publication, the Jewish Press.
When the mother contacted the school the following day, the aide assigned to the boy told her nothing happened at school, according to the report.
He "had a good day yesterday. No meltdowns or anything. He was with me the whole day [and] he didn't use the restroom."
But the mother remains concerned.
If she did not do it, I believe she knows who did," the unnamed mother was quoted about the aide.
The boy wore a Jewish head covering, known in Hebrew as a kippah, to Clark High School each day, so he was easily recognized as being Jewish.
He can't speak and is diagnosed with autism. He uses a service dog and had an aide with him daily at the public high school.
The bag kept on the dog was discovered torn and resewn. Inside are typically dog treats, bags, water, and tracking devices.
Following the incident, the family pulled their son out of Clark High School because they say it's an "unsafe environment."
On March 13, the Clark County School District Police were notified about the crime. The FBI has since joined the investigation and it could be classified as a hate crime.
The Anti-Defamation League of Nevada issued a statement this week about the incident, and called it a "violent, antisemitic act."
Not only was this student targeted for his identifiable faith, but he was particularly vulnerable due to his disability. This incident illustrates points of intersectionality in how hate can show itself across marginalized communities," the statement read.
The ADL statement comes the same week as Holocaust Remembrance Day which was observed on Tuesday. It recalls the six million Jews who died during World War II with many killed at Nazi-run concentration camps.
A statement from ADL Nevada Regional Director @BrislinJolie on a suspected hate incident against a visibly Jewish 17-year-old boy in the Las Vegas area. Read more about this incident here: https://t.co/DX8pmfePja pic.twitter.com/rjP0slLfSb

— ADL Nevada (@ADL_Nevada) April 19, 2023
Woman Due in Court for Allegedly Stealing Watch at Wynn
A woman is due in court next Tuesday to face charges she allegedly stole a $75,000 Rolex watch and $5,500 from a man's room at the Wynn Las Vegas hotel.
On February 5, 2022, the man approached Latosha Beavers, 32, also known as "Tosha," while the two were at the casino's B Bar. The two later kissed while in a elevator and then went to his seventh-floor hotel room.
He placed his wallet, which contained the cash, and the watch on a nightstand in the room. He then took a shower.
When he returned to the room, the money and watch were missing, as was the woman.
While there, Beavers possibly snorted suspected cocaine, the man told Las Vegas Metropolitan Police Department (LVMPD) officers.
Upon leaving the room, she took the elevator down and exited the hotel. She got into a taxi.
The woman's identity was unknown to the man, so it took a while for police to finish their investigation.
She was located at an apartment complex and arrested on April 8. Beavers was charged with larceny and violating probation, Las Vegas TV station KVVU reported. She was released from custody after posting bond.
Beavers has been arrested previously for soliciting and trespass on the Las Vegas Strip between 2015 and 2021, the LVMPD said.
Accused Axe Attacker Incompetent to Stand Trial
The man who allegedly attacked a car with an axe while a terrified Las Vegas mother and two-year-old child were seated inside was ruled incompetent to stand trial.
A Las Vegas judge on Wednesday ordered the man, Christopher Vera, 33, be placed in a specialized hospital and be given multiple psychiatric medications, according to Las Vegas TV station KTNV.
The mother, identified as Holli Dunn, and her child live near Vera.
I just looked up through the window and I saw someone open the door holding something," Dunn told KTNV about the seconds before the attack. "When I look up, I see it's an axe and I'm terrified."
Before the judge's ruling, Vera was examined by court-appointed psychiatrists. It was determined that he couldn't assist in his defense and doesn't understand the charges against him.
Vera was charged with burglary of a motor vehicle, child abuse, tampering with a motor vehicle, assault with a deadly weapon, and making a false statement to or obstructing a police officer.
He will be reevaluated after undergoing the treatment to see if he can later stand trial.