Posted on: May 3, 2023, 03:08h. 
Last updated on: May 3, 2023, 03:09h.
Some 100 friends and relatives of Tabatha Tozzi gathered at The Trails Park in Summerlin, Nev. for two hours on Tuesday to recall her life and offer heart-felt prayers in her memory.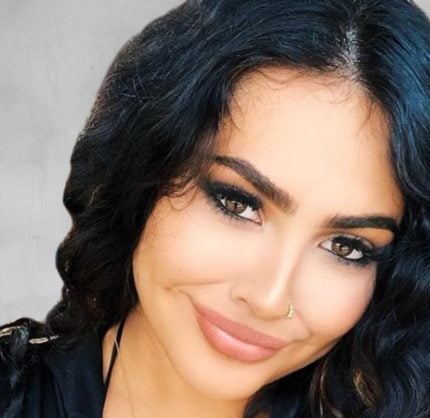 The group lit candles and held blue and white balloons as praises were offered for the well-liked, 26-year-old Las Vegas woman.
When the balloons were released into the evening sky, those assembled yelled out, "Justice for Tabatha!"
It's a really big loss in the community because she was such a beautiful light and such a beautiful person to connect with, and super sweet," Idania Ramirez, 29, said at the park about her close friend.
Tozzi worked at ZAI Restaurant and Bar on Fremont Street. She also formerly worked at Citrus Grill & Hookah and La Jolla Nightclub, both located in Las Vegas.
Tozzi reportedly appeared in a music video for LinaDrae's song "Rich." She was an occasional model, too, and had over 37,000 followers on her Instagram account. She also enjoyed writing poetry.
But all that changed after she was shot in the head on April 22. Two days later, she passed away after family members disconnected life support technology at University Medical Center when it became clear her medical condition was hopeless.
Perez-Sanchez Is Suspect
On Tuesday, Las Vegas Metropolitan Police Department (LVMPD) detectives formally confirmed statements on social media that the suspect in the case is Tozzi's boyfriend, Oswaldo Natanahel Perez-Sanchez.
Police released the 26-year-old man's photo and are seeking to question him, according to the Las Vegas Review Journal.
Perez-Sanchez allegedly shot Tozzi during an argument in a Leger Drive residence in Las Vegas. He fled the crime scene and authorities said on Tuesday they were unsure of his current location, the Review Journal reported.
Obsession, Jealousy
It appeared Perez-Sanchez was obsessed over Tozzi and was acting jealously, according to comments from the victim's friends, Las Vegas TV station KTNV reported.
Friends of Tozzi were relieved to hear that LVMPD detectives are looking for the suspect.
"I cried happy tears," Ashley Galvan, 27, said in a text message quoted by the Review Journal. "I feel very happy his name and face are out."
We want justice. We want for him to be locked … [up] for the rest of his life," Galvan added. "We want to make sure he knows the pain he's caused."
Tozzi's funeral is to take place between 2 and 6 p.m. on Wednesday at Palm Northwest Mortuary and Cemetery in Las Vegas.
To help cover funeral costs and other final expenses, the family created a GoFundMe page. As of Wednesday, the fundraiser raised $53,103.