Posted on: August 21, 2023, 05:03h. 
Last updated on: August 21, 2023, 05:03h.
It's being called a new era in state-sanctioned gambling in Nebraska.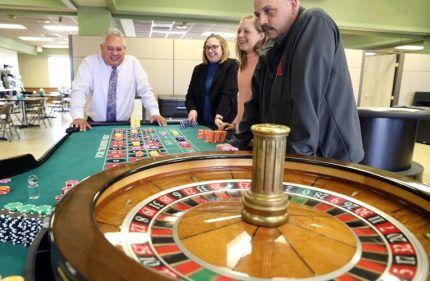 A state panel authorized the Grand Island Casino Resort to offer table games, essentially ushering in Las Vegas-Style gaming in the Cornhusker State.
The Nebraska Racing and Gaming Commission approved the casino's request to offer players craps, roulette, and other table games, making it the first property in the state to do so. The NRGC took up the matter during its August 18 meeting as commissioners implemented the gambling issues approved by voters in 2020.
"This is historic," said commission Chairman Dennis Lee.
Grand Island also now becomes the second property allowing Nebraskans to legally bet on sports.
Sports betting officially kicks off on August 23. WarHorse Casino in Lincoln was the first on board with sports betting in June.
For Grand Island, the past several weeks have been focused on training and hiring dealers for the tables. Preparations for this week's sports wagering launch have also been intense.
"We hope to open the Elite Sportsbook with two kiosks and two sports windows to bet in person," said Sharon Haselhoff, regional vice president of Elite Casino Resorts.
Nebraska law requires all sports bets to be placed in person at a betting kiosk at a licensed racetrack.
As reported by Casino.org, the Nebraska Gaming Commission has been increasing its staff in preparation for the gaming expansion.
Nebraska Communities Seek More Horse Racing
The gambling commission has also launched a market study to determine whether more racetrack licenses can be awarded, and several communities have already submitted applications.
Communities eager to get those applications approved must wait about 12 weeks for the study to be completed.
The study, conducted by Innovation Group, will focus on the current racing market, particularly on the racetracks in Adams, Dakota, Douglas, Hall, Lancaster, and Platte Counties.
There will also be an analysis of the positive and negative effects of horse racing, including financial impacts on each existing racetrack at the time of the market analysis in the event the commission approves new racetrack applications.
Nebraska law requires that the study be completed no later than Jan. 1, 2025.
Other Nebraska Notables
The NRGC reports that casino-generated tax revenue in Nebraska increased in July. Nebraska's three currently open casinos in Grand Island, Lincoln, and Columbus brought in over $1.54 million dollars in tax revenue in July, which was approximately $200K more than the previous month.
So far this year, Nebraska casinos have generated over $9.7 million in tax revenue.
The new era of table games and expanded sports wagering is beginning to affect other forms of legalized gambling. A charitable gambling quarterly report released this week indicated that betting on keno, pickle cards, bingo, and local raffles was down 10.6% from the previous quarter and 2% less than the same three months last year.
Bill Harvey of Big Red Keno said the decrease can be summed up in one word: "casinos."
Sports wagering is also prompting regulators to explore sports betting programs to protect athletes. Preventative measures are being examined to avoid gambling scandals that are making headlines.
Jim Brown, the head of Integrity Services & Athlete Wellbeing, North America, at Sportradar, said that so far, Colorado is the only state to implement an athlete well-being program for gambling.
Kudos to Nebraska. You know, to the Racing and Gaming Commission, if they are considering moving forward with a Nebraska athlete well-being program, that they're being proactive," Brown said.
Online sports wagering is currently not legal in Nebraska. Wagers must be placed at a licensed facility, and no bets can be placed on Nebraska teams when they are playing within the state.