Tachi Palace Casino Resort in Lemoore, Ca., has given its patrons 90 days to redeem gaming chips that the tribal property is retiring.
Owned and operated by the Tachi-Yokut Tribe, one of the many federally recognized tribes in California, Tachi Palace officials told Casino.org today that the resort is implementing new gaming chips following the completion of the property-wide renovations. The casino will begin dispersing the new gaming chips next month.
As a world-class casino and resort destination, Tachi Palace is thrilled to continue showcasing our exciting renovations, updates, and enhancements," said Michael Olujic, general manager of Tachi Palace Casino Resort. "The newly designed chips are an example of our commitment to quality."
Tachi Palace traces its roots back to 1983 when the tribe opened a bingo room in Lemoore, which is about 70 miles north of Bakersfield and 30 miles south of Fresno. After undergoing a major expansion project in 2005, the tribal casino was renamed from Palace Indian Gaming Center to its current Tachi Palace Casino Resort identity.
Today, the 145,000-square-foot Tachi Palace casino floor is equipped with 2,000 slot machines and 38 table games. The resort hotel features 255 guestrooms, a movie theater, a bowling alley, an arcade, and numerous restaurants and bars. The property additionally offers a convenience store and smoke shop.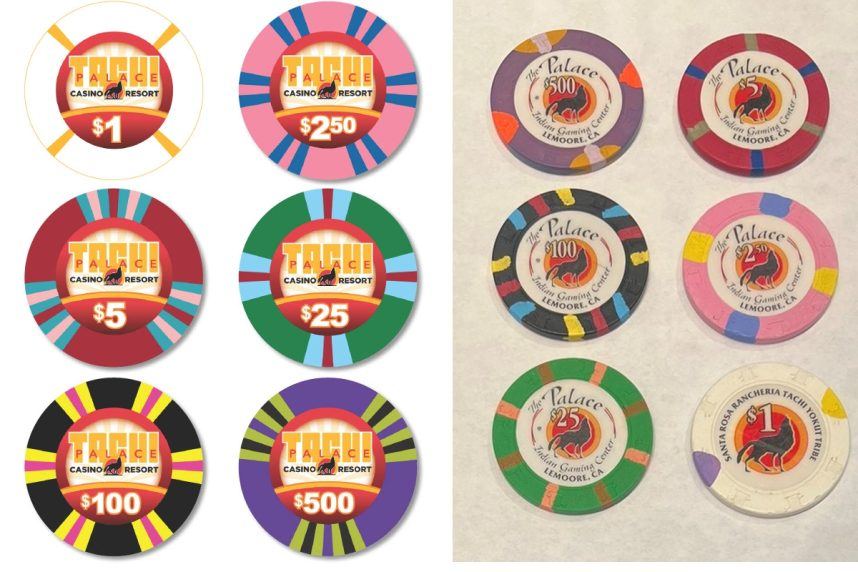 Chip Swap
Tachi Palace Casino Resort has given its patrons a 90-day notice to redeem any chips they're in possession of, with the redemption window set to expire on Sept. 29 at 12:01 am local time. Tribal officials say the new chips will carry on the same available denominations of $1, $2.50, $5, $25, $100, and $500.
Come Sept. 29, the casino says it will no longer accept or honor the chips being retired.
Casinos periodically introduce new chips for a variety of reasons, including to combat counterfeiting and to adjust their branding. State gaming regulators issue many mandates for the design and security features of chips.
In Nevada, for example, state regulations require that casino chips be 1.55 inches in diameter for all games other than baccarat, which can be slightly larger up to 1.6875 inches. All casino chips must be .13 inches thick and "disc-shaped."
So, why did casinos in the first place move to use chips instead of just dealing with cash? According to Casino.org's Scott Roeben, the Las Vegas insider who runs the popular social media account "Vital Vegas," players tend to gamble more when using chips than they would if they were forced to use cash.
Chip Security
Today's casino chips have many more features than meets the eye. The circular gaming tokens feature significant security measures through the use of RFID (radio frequency identification) technology. RFID tags allow a casino to keep tabs on its gaming chips.
Most Las Vegas casinos also incorporate RFID readers, which can surveil a bulk of gaming chips to determine their legitimacy. Such RFID readers at table games can also assist casino security in detecting a rouge dealer who might be involved in a cheating scheme.
The post Tachi Palace Casino Gives Gamblers 90 Days to Redeem Retiring Chips appeared first on Casino.org.