Shooting Incident Outside Caesars Palace Las Vegas
Published: August 1, 2023, 12:52h. 
Last updated: August 1, 2023, 12:52h.
A man was shot outside of Caesars Palace Las Vegas on Sunday afternoon, according to local media reports.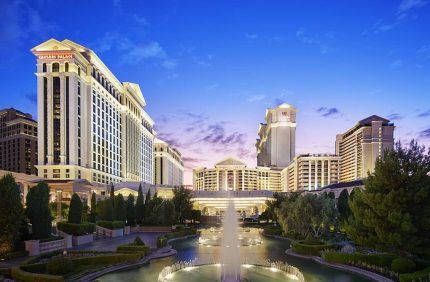 The victim was transported to a hospital for treatment, and thankfully, his injuries were not life-threatening. Authorities have not provided any new information regarding his condition.
The incident occurred on the sidewalk in front of the hotel-casino, as confirmed by a spokesperson from Caesars Palace. Law enforcement officials are currently conducting an investigation to locate the suspect.
According to reports, the suspect was spotted inside the Caesars Palace lobby shortly before the shooting.
Las Vegas Metropolitan Police Department (LVMPD) officers have stated that the assailant fled across the Las Vegas Strip before their arrival. They have released a description and photo of the suspect, who is described as a thin, Hispanic male wearing a dark green shirt, black pants, white and black shoes, and carrying a red and black backpack.
The exact location of the shooting has not been disclosed by the authorities, but it was reported to the police at 1:50 p.m. on Sunday in the 3500 block of Las Vegas Boulevard.
Both the victim and suspect are believed to be homeless, and it is currently unclear what led to the shooting. Some reports suggest that the incident may have resulted from a dispute between the two individuals.
Interestingly, this is not the first time Caesars Palace has experienced violent incidents in recent weeks.
Standoff Incident
Last month, there was a five-hour standoff between the LVMPD SWAT team and a guest at Caesars Palace. The guest, identified as Matthew Mannix, was armed and had taken a woman hostage in a hotel room. He was eventually apprehended by SWAT officers and was found to be under the influence of drugs at the time.
Mannix has since been charged with multiple offenses, including kidnapping, coercion with threat of force with a deadly weapon, destruction of property, resisting arrest, and disregard for safety.
Fatal Shooting Incident
In May, two women were arrested after a man was fatally wounded in a Caesars Palace hotel room. The women, Erika Covington and Arionna "Ari" Taylor, have been charged with murder, robbery, conspiracy to commit murder, and conspiracy to commit robbery. They are currently in custody at the Clark County Detention Center.