Posted on: July 5, 2023, 10:06h. 
Last updated on: July 5, 2023, 10:06h.
The Los Angeles Angels lost centerfielder Mike Trout to a left wrist injury. The Angels are in deep trouble heading into the second half of the season without their second-best player and a former three-time Most Valuable Player.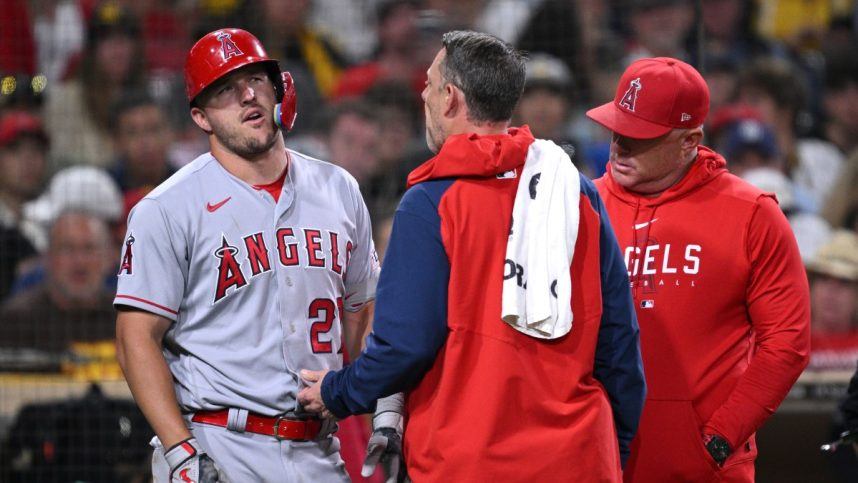 Trout sustained a fractured wrist against the San Diego Padres, and he could miss anywhere from three to eight weeks with the injury. He has yet to decide about surgery, and the team awaits a second opinion.
It's another freak thing," Trout told reporters after the game. "I'm going to miss a little bit of time, but it's not season-ending."
The timing of the injury is horrible news for the Angels because they've been losing ground in the AL Wild Card race, and could fall even farther back without Trout in the lineup.
The Angeles recently dropped two games in a row, and lost six out of their last seven games. During their last 14 games, the Angels are only 4-10 and they're currently on the playoff bubble.
Down and Trout in Anaheim
Trout recently earned a spot in the upcoming MLB All-Star Game and was set to make an 11th appearance.
Before Monday's game against the Padres, Trout had 18 home runs and 43 RBI while slashing at .260/.365/.493.
Trout led off the eighth inning, but something happened to his wrist after he fouled off a pitch from Padres' reliever Nick Martinez. He signaled to the dugout for a trainer, and manager Phil Nevin removed Trout from the game.
I just took a swing and something felt uncomfortable," said Trout. "It doesn't feel great. I mean, there's no two ways to it."
Trout hoped he suffered a sprain, but X-rays revealed a broken hamate bone in his left wrist. He could miss nearly two months of action if he opts for surgery.
"I've had other guys reach out who've had this surgery before or had this injury before," said Trout. "I don't know if it's going to need surgery or not. Some guys came back in four weeks; some guys take a little longer just to see how their body heals."
"Thankfully it's a bone," added Nevin. "It's not a ligament or anything like that. Guys have come back from this and did fine and played. Mike will be back with us at some point this year. I know he's hungry."
Trout is a three-time AL MVP, but he struggled with injuries in the last few seasons. He missed 126 games in 2021 due to a calf strain. In 20023, Trout missed 43 games last season with a rare back injury and a costovertebral dysfunction in his vertebra.
Anaheim ER: Injuries Continue to Mount
Starting pitcher Shohei Ohtani and third baseman Anthony Rendon both exited Tuesday game with injuries. Ohtani had a blister on the middle finger of his pitching hand. Rendon fouled a ball off his shin, and he's expected to spend time on the IL.
The Angels battled injuries all season. Several position players spent time on the IL including infielder Gio Urshela, shortstop Zach Neto, catcher Logan O'Hoppe, and second baseman Brandon Drury. The Angels lost pitchers Ben Joyce, Matt Moore, Jose Quijada, and Austin Warren to injuries as well.
We've talked all along about our depth, and it's been tested," Nevin told The Athletic. "Yeah, we've lost some big pieces to this. We've talked about having the next guy up. Same thing in Trout's case."
Two-way star Ohtani is the clear-cut betting favorite to win the AL MVP because he's having an exceptional season as a batter and starting pitcher. Even Ohtani caught a bit of bad luck last night when Nevin pulled him from Tuesday's start in the fifth inning. He also had a start pushed back due to a cracked fingernail on the same finger.
Ohtani will not pitch for the American League in the All-Star Game next week. Fans voted in Ohtani as the designated hitter, but he will make a decision about his status for the All-Star Game in a few days.
Angels in Tight AL Wild Card Battle
The Angels are 45-43 and currently occupy third place in the AL West. They trail the first place Texas Rangers (51-35) by seven games, and they're also four games behind the Houston Astros (48-38) in second place.
The surging Astros (+100) and Rangers (+120) are the favorites to win the AL West, and the Seattle Mariners (+1400) and Angels (+1600) are long shots to ship the division title. Just a week ago, the Angels were +550 odds to win the division, but their AL West futures tumbled due to the Trout injury. The Angels have a 4.3% chance to win the AL West, according to a postseason projection by FanGraphs.
The Angels were +3000 odds to win the 2023 World Series last week, but their championship futures also had a significant drop to +7500. In the latest projection from FanGraphs, the Angels have a 1.1% chance to win the World Series.
The Angeles also saw a drastic change in their AL pennant odds when they dropped from +1500 to +3500.
In the tight race for the AL Wild Card, the Baltimore Orioles (49-35), New York Yankees (48-38), and Astros would lock up spots if the season ended today.
The Toronto Blue Jays (46-40) are two games back and the Angels are four games out of the AL Wild Card. The Boston Red Sox (43-43), Seattle Mariners (42-42), and Cleveland Guardians (42-43) are also in the playoff hunt with plenty of baseball left to play this summer.
The Angels have a 15.3% chance to secure one of the three AL Wild Card spots, and a 19.6% overall chance to qualify for the postseason according to FanGraphs.