Posted on: July 9, 2023, 10:50h. 
Last updated on: July 9, 2023, 10:50h.
President Trump was spotted with Ultimate Fighting Championship (UFC) President Dana White Saturday at Red Rock Casino Resort and Spa just hours before "UFC 290."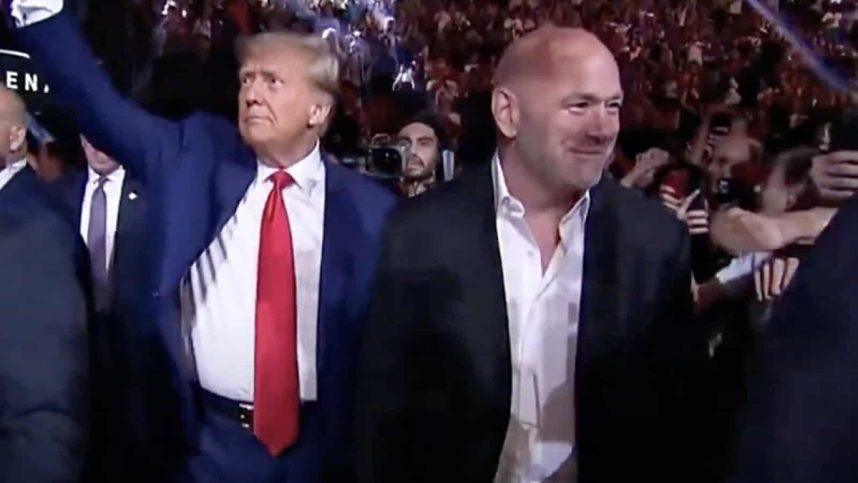 The 45th US president is a well-known UFC fan, having attended multiple events of the popular combat sport in the past. In addition to a long-standing relationship with White, who spoke before Trump accepted the Republican presidential nomination in 2020, the former president has earned praise from UFC fighters Colby Covington and Jorge Masvidal and has received enthusiastic applause when introduced at UFC events.
Trump, widely seen as the presumed GOP nominee in 2024, attended "UFC 290" at T-Mobile Arena on the Las Vegas Strip and was accompanied into the arena by White and commentator Joe Rogan.
Las Vegas Stop Not All Fun, Games for Trump
While Trump visited Red Rock — reportedly the highest-rated casino hotel in Las Vegas — and enjoyed "UFC 290," his time in Sin City wasn't solely for leisure.
Trump reportedly hosted a volunteer event at Fervent: A Calvary Chapel Church Saturday afternoon. This made him the second contender for the 2024 Republican presidential nomination to visit Nevada so far. Florida Gov. Ron DeSantis was the first. Some political observers find this trend interesting because Nevada is third on the party's 2024 primary schedule.
Trump narrowly lost Nevada to President Biden in 2020, with the current president winning the state by a margin of 2.39%. This was slightly worse than the 2.42% margin by which Hillary Clinton beat Trump in the state in 2016. Nevada has six electoral votes.
While six electoral votes may not seem like a significant prize, the narrow margins by which recent presidential candidates have won Nevada in recent elections, coupled with the state's proximity to Arizona — another swing state — suggest that candidates from both parties in 2024 will spend considerable time in Nevada.
Red Rock Trump Ties
Red Rock Resorts (NASDAQ: RRR) is controlled by Frank and Lorenzo Fertitta, who themselves are supporters of Trump.
The Fertittas have donated $5.23 million to various Trump-affiliated campaign entities since 2016, with one family member contributing $207,000 to the Trump Inaugural Committee following the 2016 election. These donations have drawn criticism from the Culinary Union — the labor union that has long been at odds with the Fertittas.
However, the labor union is highly political and its politics are in opposition to the Fertittas'. In 2022, the Culinary Union endorsed Democratic candidates from Nevada across the board, despite the fact that former Gov. Steve Sisolak (D) shut down casinos in the state during the early stages of the coronavirus pandemic. While the industry has rebounded, not all of the lost jobs have been recovered, as evidenced by Nevada having the highest unemployment rate in the nation at 5.4%, according to the Bureau of Labor Statistics.