Posted on: September 17, 2023, 10:02h. 
Last updated on: September 17, 2023, 10:03h.
The iconic Irish band U2 surprised fans in Las Vegas with an early morning video shoot of their new song "Atomic City." The performance took place on a flatbed truck in downtown Las Vegas, starting at midnight. Check out the video footage on YouTube.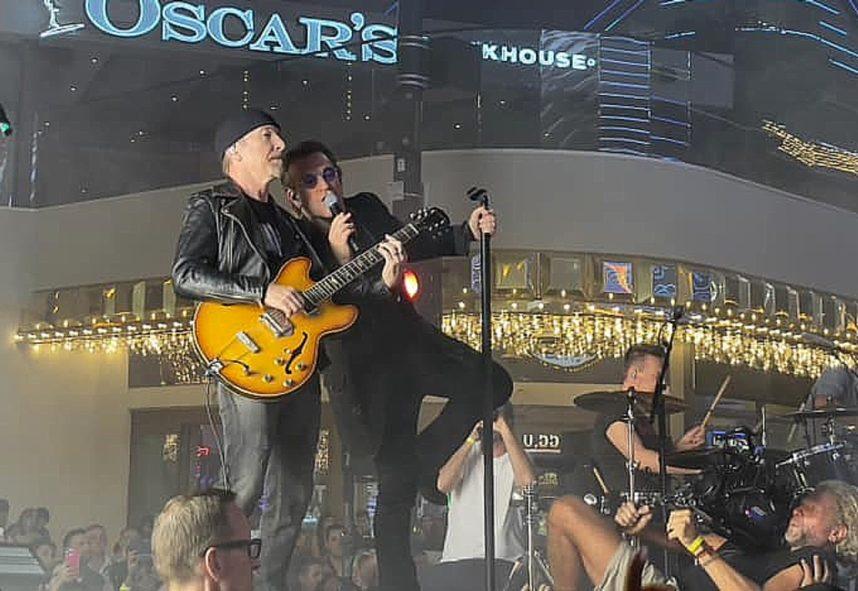 The legendary rock superstars are currently in Las Vegas rehearsing for their upcoming residency at the MSG Sphere. The residency, titled "U2:UV Achtung Baby Live," will also mark the grand opening of the $2.3 billion venue on September 29.
During the video shoot, lead singer Bono explained that "Atomic City" celebrates the history of Las Vegas while embracing some of its well-known stereotypes. The song highlights the city's connection to stars and popular culture, as well as its fascination with extraterrestrial encounters.
Bono performed the song live, accompanied by a playback of the recorded version. The track is expected to be included in U2's setlist for the Sphere residency, which will predominantly feature songs from their acclaimed 1991 album Achtung Baby.
Make sure to watch the video of the incredible performance posted by YouTuber mfb1962.
The video shoot showcased U2's dynamic stage setup, reminiscent of the Rolling Stones' famous stunt on New York's Fifth Avenue in 1975. The band moved between two shooting locations: behind the 3rd Street stage and in front of the Plaza Hotel and Casino.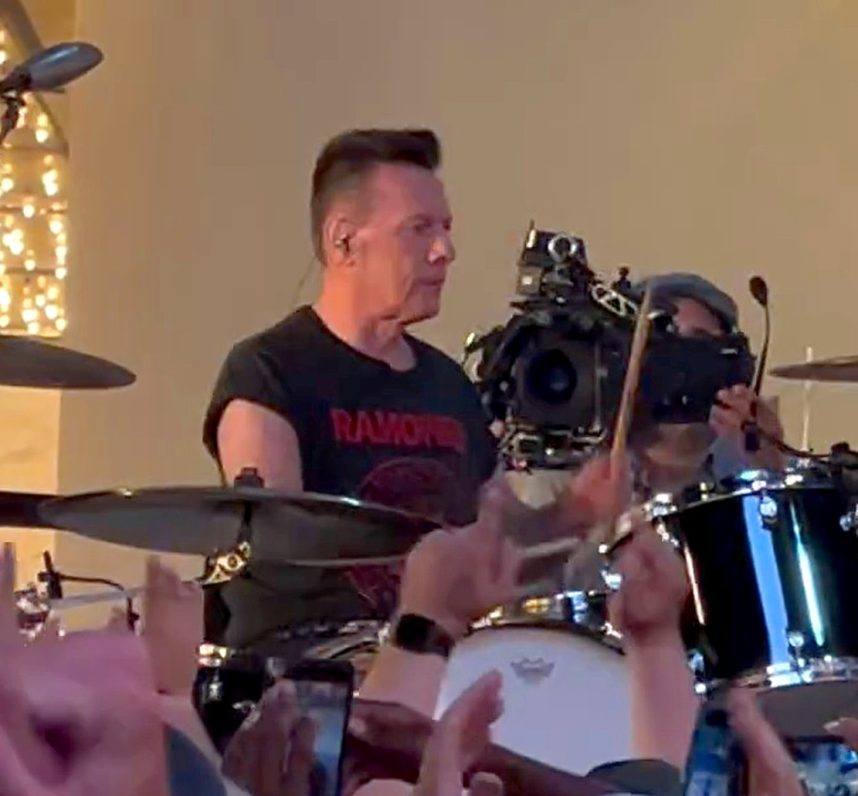 Big Surprise
In a surprising turn of events, U2's founding drummer Larry Mullen Jr. made a return to the drum stool for the video shoot. Mullen had to sit out the Sphere dates due to ongoing recovery from surgery on his neck and elbow. Filling in for him during the live performances will be Bram van den Berg, a talented musician from The Netherlands.
Bono jokingly mentioned that Mullen doesn't always follow doctor's orders, which could explain his ability to drum during the video shoot.
A Sort of Homecoming
The choice to film the video at the Plaza Hotel holds significance due to its historical connection to Las Vegas. The casino resort sits on the site of the city's first railroad stop, which played a crucial role in its establishment in 1905. While the original depot no longer exists, the train tracks behind the Plaza are still used for freight.
This location also brings U2 back to their past, as they famously filmed their 1987 video for "I Still Haven't Found What I'm Looking For" on Fremont Street. In that video, U2 entertained tourists while channeling Elvis and showcasing their status as the biggest music act of the time.
As a nod to this connection, U2 performed a country-flavored rendition of "I Still Haven't Found What I'm Looking For" during the video shoot.