Posted on: July 28, 2023, 03:48h. 
Last updated on: July 27, 2023, 12:49h.
The Jockey Club Suites at Churchill Downs Racetrack are undergoing a $14 million renovation that will modernize the luxury full-service hospitality offerings at the legendary thoroughbred racetrack.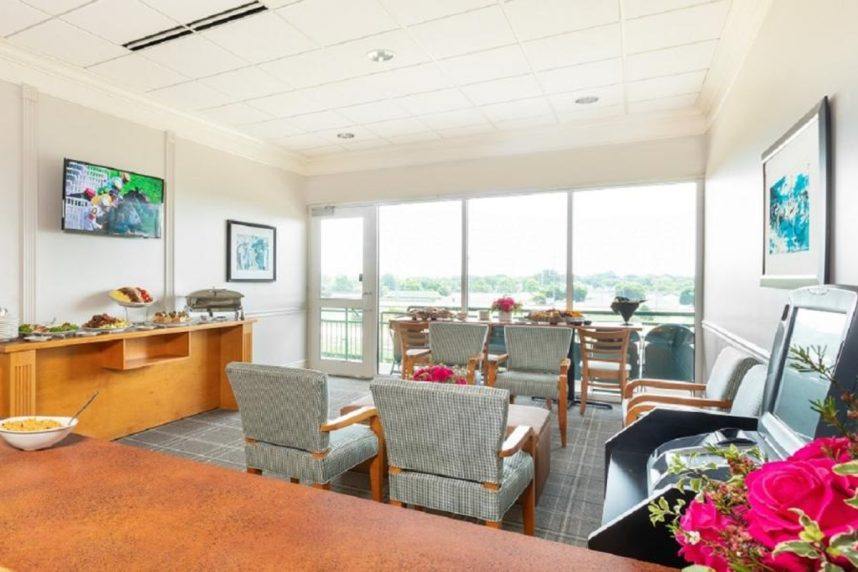 Home to the Kentucky Derby, traditionally the first leg of the annual Triple Crown, Churchill Downs offers 61 suites in the Jockey Club. The occupancies are located on the fourth, fifth, and sixth floors in a tower located directly adjacent to the historic Twin Spires along the homestretch.
Officials with Churchill Downs, Inc., said on Wednesday that all 61 Jockey Club Suites will be fully renovated, as will the club's common areas, dining spaces, and restrooms.
The Jockey Club Suites are a core premium hospitality product," said Churchill Downs President Mike Anderson. "This renovation project will ensure existing and future suite holders are provided the entertainment experience Churchill Downs is known for and our guests have come to expect for Kentucky Derby Week and all other racing events."
Prices for a suite start at $750, but are much more expensive during marquee events. For the Kentucky Derby, the suites often go for more than $200,000. The most basic Jockey Club Suite comes with room for 24 guests.
Suite Enhancements
Originally constructed and opened ahead of the 2004 Kentucky Derby, the Jockey Club Suites at Churchill Downs can accommodate up to 2,500 guests. The Jockey Club Suites Clubhouse additionally features the Triple Crown Ballroom, Grand Foyer, Derby and Oaks meeting rooms, and the recently opened Triple Crown Balcony that serves as a premium rental space for special events throughout the year.
Churchill Downs expects to have the Jockey Club makeover completed in time for the 150th Kentucky Derby set for May 3-4, 2024.   
Churchill Downs didn't specify what sort of upgrades are in the works for the track's premium suites. But the suites are currently rather bland with outdated furniture and fixtures.
Each suite offers customizable food and beverage options, and each room offers a private self-service wagering terminal, wet bar, and wait staff.
Difficult Year for the Ponies
The horse racing industry has faced much scrutiny in recent years.
It was only in June 2021 that Bob Baffert, one of the horse racing industry's most recognizable names and faces, was suspended by Churchill Downs after numerous drug tests came back positive for Medina Spirit, which had won the 2021 Kentucky Derby. Medina Spirit died that December after suffering a heart attack while working out at Santa Anita Park.
In 2022, the Kentucky Horse Racing Commission and California Horse Racing Board also suspended Baffert. Horsemen and Churchill Downs suffered more public controversy this year when seven horses died at Churchill Downs in the days leading up to the 2023 Kentucky Derby.
Churchill Downs decided in early June to relocate its remaining races in its spring meet to Ellis Park in Henderson, as an investigation into the horse deaths was conducted.
"What has happened at our track is deeply upsetting and absolutely unacceptable," Churchill Downs CEO Bill Carstanjen said in a statement last month. "Despite our best efforts to identify a cause for the recent horse injuries, and though no issues have been linked to our racing surfaces or environment at Churchill Downs, we need to take more time to conduct a top-to-bottom review of all of the details and circumstances so that we can further strengthen our surface, safety, and integrity protocols."