Posted on: April 3, 2023, 12:33h. 
Last updated on: April 3, 2023, 01:29h.
The son of late Chicago Bears running back Walter Payton wants the public's help finding two good Samaritans he credits with saving his own son's life in Las Vegas last week.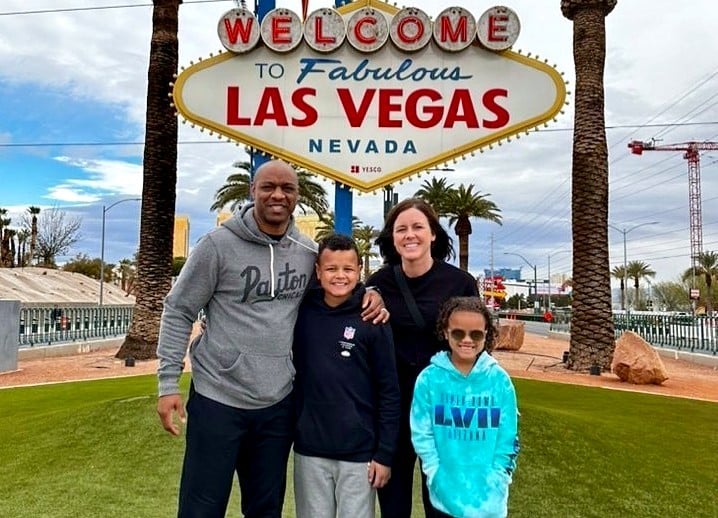 Jarrett Payton, a sports anchor for WGN-TV/Chicago and a former running back with the Tennessee Titans, was vacationing with his wife, their daughter, and their 11-year-old son, Jaden, last Monday. After an afternoon of playing arcade games at Circus Circus, the family stopped by a McDonald's to fuel up. Suddenly, Jaden began staring into space, shaking, and making unusual noises.
I started screaming just 'I need help! Call 911!' And then so did my daughter," Jarrett said during an interview with FOX5/Las Vegas.
After a few seconds, a woman came forward to help Jarrett lay Jaden properly down on the floor, while a man brought a towel for his head.
"It was the scariest moment of my life," Jarrett posted on Instagram. "Two amazing strangers didn't hesitate to help me save his life. I didn't get their info but I'm sharing this in hopes someone knows them. We would ❤️ to personally thank them."
What Causes a Seizure
The family is still in the process of figuring out what caused Jaden's seizure. According to the Epilepsy Foundation, not all seizures result from epilepsy. Some "may relate to a brain injury or family trait, but often the cause is completely unknown." According to the foundation, doctors typically make an epilepsy diagnosis "if you have two unprovoked seizures or one unprovoked seizure with a high risk of more."
Jarrett said he wants to encourage other parents to learn what to do if a seizure should occur to their child. According to the Epilepsy Foundation, all seizures are different, but the following general guidelines apply to all:
Always stay with the person until the seizure ends
Stay calm
Prevent injury by moving nearby objects out of the way
Make the person as comfortable as possible
Keep onlookers away
Don't hold the person down
Don't put anything in the person's mouth
Don't give water, pills, or food by mouth unless the person is fully alert
Make sure their breathing is normal
Pay attention to how long the seizure lasts (most are over in a few minutes)
Call for help if there is trouble breathing, if a seizure lasts more than 5 minutes, if one seizure happens right after another without the person regaining consciousness in between, or if the person is injured during the seizure