Posted on: April 6, 2023, 09:33h. 
Last updated on: April 6, 2023, 09:46h.
"Awakening," the $120M original music playing to only half-full houses at Wynn Las Vegas since premiering last November, has been placed on indefinite pause so its producers can retool it. The final performance of its initial run will be April 15.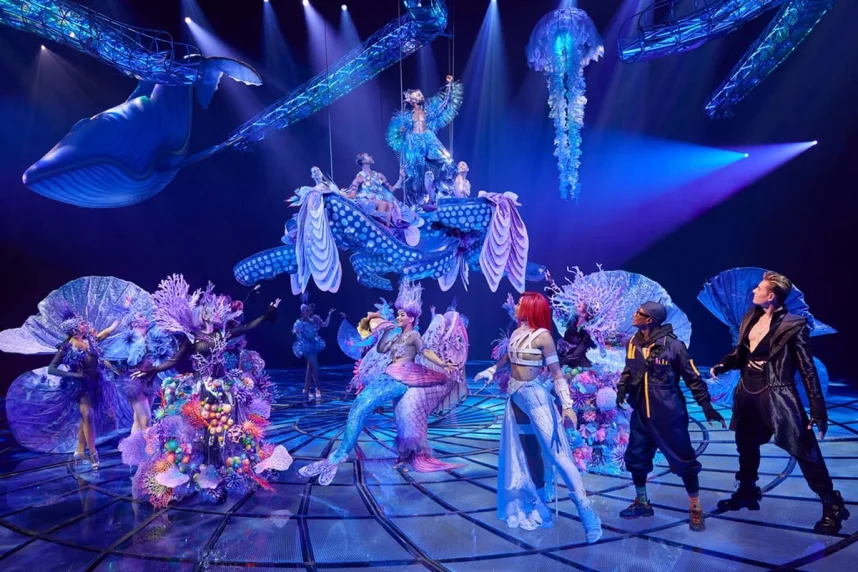 This will be the second retooling for "Awakening," which went also dark for two weeks, fewer than three months after its November 7 premiere.
Beginning April 17, Wynn Las Vegas will temporarily pause performances of "Awakening" to allow for an extended rehearsal period," read the statement from Wynn Las Vegas, which co-produces the show and helped finance its $120M production cost. "Consistent with the resort's commitment to excellence and quality, Wynn Las Vegas is committed to bringing a superior vision of 'Awakening' to audiences. The show will resume performances at the conclusion of the extended rehearsal period."
Though the show's representatives haven't specified a return date, Ticketmaster lists the next performance as June 6.
News of the upcoming pause was broken late Wednesday night by Casino.org's own Vital Vegas blogger Scott Roeben, who also offered up his Top 10 suggestions for ways to fix the show.
Curtains for All Production Shows?
Though entertainment spending has returned to pre-pandemic levels on the Strip, the Broadway-style productions that, along with Cirque du Soleil, defined Las Vegas entertainment from about 2006 when "Phantom: The Las Vegas Spectacular," opened at the Venetian don't seem to be feeling the post-pandemic comeback.
In fact, they appear to still be struggling due to competition from omnipresent superstar residencies and from changing entertainment tastes and purchasing habits. Three Las Vegas Strip production shows, "Bat Out of Hell — The Musical" at Paris Las Vegas, Criss Angel's "Amystika" at Planet Hollywood, and "Extravaganza" at Horseshoe all failed to cross the threshold into 2023.
Even the undisputed musical genius of "Hamilton" creator Lin-Manuel Miranda couldn't keep "Freestyle Love Supreme" at the Venetian for longer than two months.
It's a question of priorities and how much money people have left over to spend now on these general-interest shows," Mike Weatherford, former theater reporter and critic for the Las Vegas Review-Journal, told Casino.org last month. "If you're coming to town to see basketball or NASCAR, you already paid a premium for both your tickets and your room rate. If you have any money left over, and you can find the tickets, then Usher, Keith Urban, Katy Perry, and Adele are playing residencies, and you have two nights of Jimmy Buffett.
"Are you really going to see 'Awakening'?"
A brand new Las Vegas Strip production show did premiere last month. The Tony Award-winning "SIX the Musical" debuted at the Venetian on March 21. The show was announced last fall as a seven-week engagement. Though it sounds cynical, one can't help wonder if at least part of the reason for its limited run wasn't a hedge against the embarrassment of having to close another production show earlier than expected.
Also not helping production shows any is the decline of the discount ticket booth. In the mid-2000s, over a dozen crowded the Strip, selling thousands of half-price tickets for same-day shows. Today, there are only four.
Whereas thousands of tourists once flooded Las Vegas every weekend planning to use these booths to choose what shows to see at the last minute, most now come having already purchased tickets online and knowing their agendas.