Posted on: November 21, 2023, 01:48h. 
Last updated on: November 21, 2023, 01:48h.
The New York Jets have made a surprising move by benching struggling quarterback Zach Wilson and promoting backup quarterback Tim Boyle as the starter in Week 12. The Jets are set to host the Miami Dolphins in the NFL's first Black Friday game following the Thanksgiving holiday.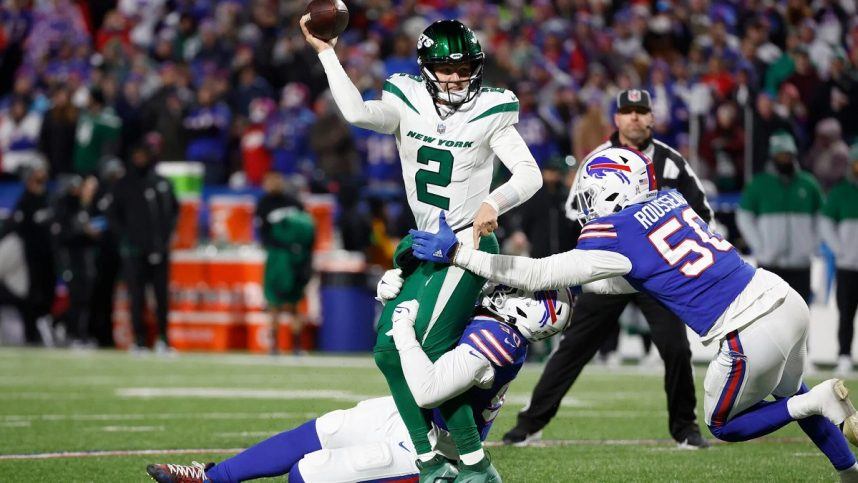 Wilson began the season as a backup quarterback but was quickly called upon in the first game after starter Aaron Rodgers was injured. Since then, Wilson has struggled and faced criticism for his performance, and with only three wins out of nine starts, the Jets made the decision to make a change.
Many fans were hoping for new quarterback acquisitions, but the team opted to stick with Wilson, to the dismay of many. Despite his struggles, Wilson remains eager to prove himself worthy of the starting role in the future.
Head coach Robert Saleh has decided to give backup quarterback Tim Boyle the opportunity to start after Wilson's recent disappointing performances. He expressed a desire to see a change in the team's fortune and believes Boyle is capable of delivering.
Zach Wilson's Struggles
Since helping secure an upset win in Week 6, Wilson's performance has been poor, contributing to the team's three-game losing streak. His low completion rate, high sack count, and overall inconsistencies have led to his demotion.
The Jets' passing attack has been weak, often scoring low and struggling to compete effectively against opponents. The team is hoping that a change in leadership on the field will result in a more successful offense.
Tim Boyle Takes the Helm
Boyle, although lacking experience, has demonstrated good qualities that the Jets coaching staff is counting on. With confidence, his ability to make quick decisions, and support from his teammates, Boyle is eager to make the most of his starting role.
Boyle's strong performances in preseason games have given the Jets hope for the future. Despite a rough outing against the Bills, the team believes Boyle has the potential to lead them to success.
Betting Considerations
As the Jets prepare to face the Miami Dolphins at home, bookmakers have installed them as underdogs in this Black Friday clash. Despite the long odds, the Jets are hopeful that Boyle's leadership will translate into a competitive performance.
Bettors are keeping a keen eye on the Jets' situation, with point total unders emerging as a popular choice given the team's struggles. The Jets may be a long shot for the playoffs, but their future prospects have generated considerable interest among bettors.