We're at the time in the NFL season where each week is bringing surprise defeats to favorites who -at least in theory- seem like sure bets. What are some smart options to bet on? Here are three to consider.
This is a classic game where a few points either way is forcing movement on the line. The Jaguars were 2.5 point favorites to begin which helped push major money onto New Orleans. That caused the inevitable pushback and now the Jags are -1.5 point favorites with 80% of bets going to the Saints.
The Saints haven't lost since Teddy Bridgewater took over as the starter, but the Jaguars are getting shockingly excellent play from rookie QB Gardner Minshew who has nine touchdowns and one interception with 8.6 yards per attempt.
The bottom line is Jacksonville's offensive efficiency is much better than the Saints in spite playing better defenses. They are also home after two straight on the road and their crowd should offer a real boost. CB Jalen Ramsey is also expected back after missing last week's game and that should help to neutralize the Saints biggest threat WR Michael Thomas.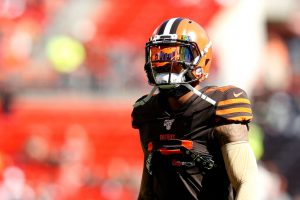 First impressions say take Seattle all the way considering they just beat the Rams and have been off for 10 days while Cleveland laid a major egg at San Francisco and will be playing on a short week.
The Seahawks are 4-1, but their wins are against Cincinnati, Pittsburgh (without Big Ben for the second half), Arizona and the Rams. The Rams win was legit, but the difference at the end was a missed field goal from usually sure-footed Greg Zuerlein.
Cleveland's the best defense they've faced all year and Seattle's pass defense is just 26th in the league. They've allowed some major points against those weak foes they've faced. The Browns should also be in a desperate spot.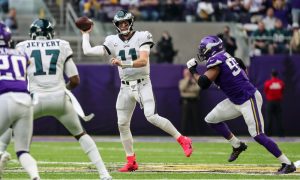 This is probably the riskiest choice of the three games since I'm recommending taking Minnesota. That's in spite the Vikings offense coming up woefully short against the Packers and Bears, the two best teams they've faced thus far.
At the same time, Minnesota's offense bounced back against the Giants last week and they are 20 spots better than Philadelphia in yards-per-play, 16 better in yards-per-pass and they are among the elite rushing teams in the league.
The Vikings also have one of the best defenses in the league, slightly ahead of the Eagles and Philadelphia has been much better at home this year and two of their three wins have been against Washington and the Jets.
Minnesota is also 2-0 thus far at home, with wins by 16 points or more over the Falcons and Raiders.