Posted on: November 14, 2023, 03:58h. 
Last updated on: November 14, 2023, 03:58h.
Shares of DraftKings (NASDAQ: DKNG) jumped 4.13% today on volume that was nearly double the daily average, ascending to a new 52-week high following bullish commentary from the gaming company at its investor day.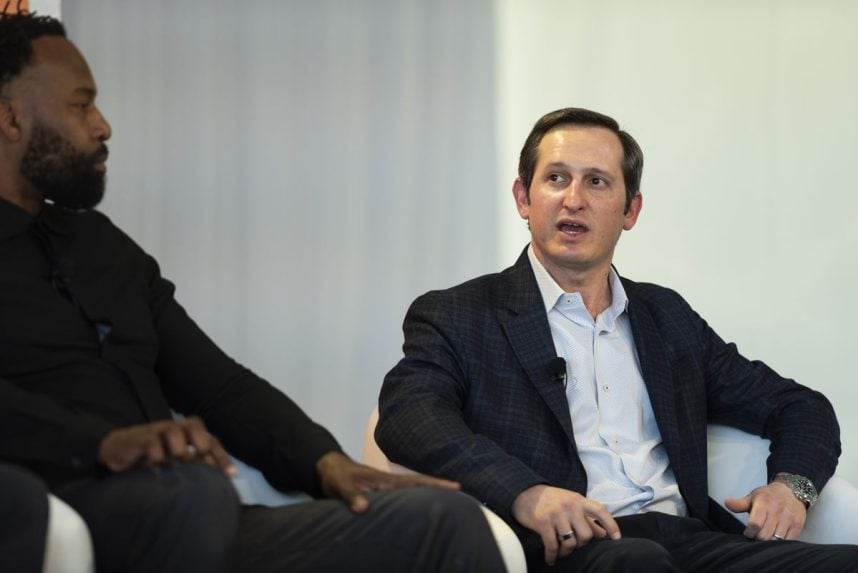 After lifting 2023 earnings before interest, taxes, depreciation, and amortization (EBITDA) and revenue estimates earlier this month while unveiling strong 2024 forecasts, DraftKings today delivered out-year forecasts that appeared to delight analysts and investors. For 2025, the online sportsbook operator said it expects revenue in the mid-$5 billion range on adjusted EBITDA of $900 million with those figures growing to $6.2 billion and $1.4 billion, respectively, the following year. In 2028, the operator expects to notch sales of $7.1 billion on EBITDA of $2.1 billion.
We are not taking our foot off the gas," said DraftKings CEO Jason Robins. "We believe that our velocity and pace of product innovation will continue to be faster than any other operator in the U.S. online gaming space."
Broadly speaking, sell-side analysts were enthusiastic about the investor day commentary from DraftKings. Piper Sandler said it was "impressed" by the gaming company's estimates while reiterating an "overweight" rating and $40 price target on the stock. Craig-Hallum echoed that refrain, reiterating a "buy" grade on the stock while boosting its price estimateto $45 from $40. DraftKings closed just over $37 today.
DraftKings Growth Outlook Strong
DraftKings recently told analysts and investors its the number one operator in terms of iGaming and online sports betting gross revenue share in the US, but there's market growth potential. For example, the operator forecast a total addressable market of $30 billion by 2028, up from $20 billion today, based just on the states in which it currently operates.
Translation: As more states approve iGaming or sports betting, that "would add significant revenue growth and additional long-term Adjusted EBITDA, and improve our long-term Adjusted EBITDA margins," noted Robins.
For 2024, DraftKings expects to be live in 25 states and Puerto Rico with iGaming available in five of those jurisdictions. Robins "absolutely expect(s) more U.S. states to legalize OSB and iGaming." He noted there's at least eight states with sports betting legislation in the pipeline and a comparable amount with online casino bills.
Currently, Georgia is seen as the only large state that could approve sports betting next year and the road to broader iGaming legislative success is unclear at this point. Operators don't necessarily need to add new states to the fold because states that have long permitted iGaming, sports betting, or both are experiencing significant growth on those fronts. Robins highlighted New Jersey as an example.
"New Jersey, which launched OSB more than 5 years ago and iGaming about 10 years ago, is still achieving very strong growth on a year-over[1]year basis," he said. "This year, we expect New Jersey gross gaming revenue to increase about 25%. The percentage of adults who are participating in the online gaming category is increasing and existing participants are engaging at a higher level over time."
DraftKings Product Offering Evolving
In the iGaming and online sports wagering space, evolving product offering is integral in attracting and retaining customers. On that note, operators have had significant success with same-game parlays (SGPs). DraftKings is building on that with soon-to-debut progressive parlays.
At the investor day, Robins discussed the operator's plans for progressive parlays, which would allow bettors to receive compensation even if one or more legs of the wager lose.
"We're excited about our Progressive Parlay offering and its potential to generate higher parlay mix and leg count, and thus higher hold percentage, as well as being a great win with customers who will be able to win money on their parlays even if they don't hit every leg of their bet," concluded the DraftKings boss.