Posted on: May 2, 2023, 08:59h. 
Last updated on: May 2, 2023, 08:59h.
Caesars Entertainment (NASDAQ: CZR) reported a wider-than-expected first-quarter loss, but the casino operator beat on the top line and its chief executive officer told analysts Las Vegas remains sturdy.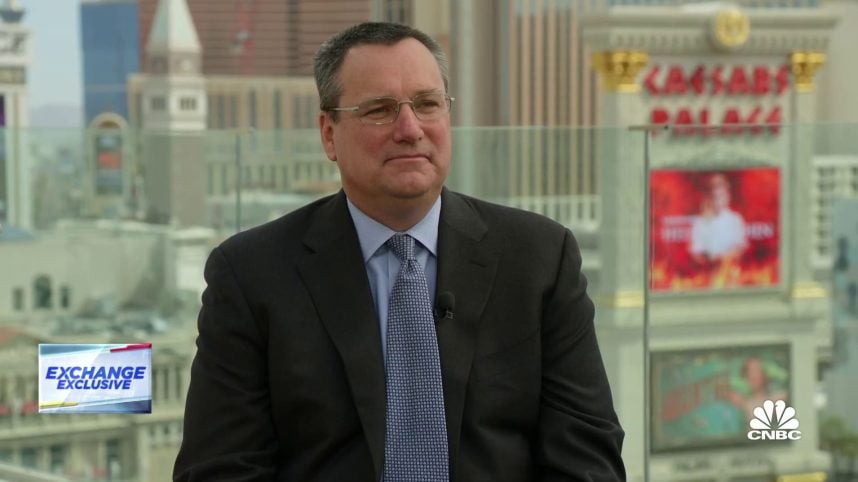 The Harrah's operator posted a loss of 63 cents a share on revenue of $2.8 billion during the January through March period. Analysts expected a loss of 4 cents on sales of $2.76 billion. Caesars Digital, which includes the company's internet casino and online sportsbook, posted quarterly revenue of $238 million.
On the Las Vegas Strip where it's the second-largest operator, Caesars notched first-quarter earnings before interest, taxes, depreciation and amortization (EBITDA) of $544 million as margins increased to 48% from 45% and as occupancy surged to 95% from 83% a year earlier. Revenue at the company's extensive regional casino portfolio rose 2%, but EBITDA in that segment slipped 2%.
"As of March 31, 2023, Caesars had $13.2 billion in aggregate principal amount of debt outstanding. Total cash and cash equivalents were $965 million, excluding restricted cash of $258 million," according to a statement.
Regarding Caesars Digital, the gaming company said it will be launching a standalone iCasino app in the third quarter. The operator added that its Nevada sport wagering app will more closely resemble the product customers in other states see by the start of the 2023 football season.
Caesars Realizes Value in Catering to Higher End Customers
On a conference call with analysts, Caesars CEO Tom Reeg highlighted the transition of Strip operators catering to value-oriented consumers to higher end segments – something Caesars is participating in.
Reeg, who's never been shy about making culinary-inspired comments, said the days of economical surf and turf dinners are relics of a bygone Las Vegas era.
Now you're talking about one of the best food and beverage scenes in the world, among the best sports and entertainment experiences in the world and continually adding to that," he said on the call. "We are working to continue to add to that, MGM, Wynn, Sands, they're all working to up-tier what we're offering to customers."
The Caesars boss added that the NFL's Raiders, the November Formula One race, the resurgence in convention/meeting business and the potential addition of Major League Baseball (MLB) are positive catalysts for Sin City operators.
"You're bringing in higher-value customers and you're already full, so you're kicking out the lowest end," Reeg added. "I see no reason that needs to or would stop. This market has done a great job over the 30 years I've been around gaming and continues to add reasons for people to come and add capacity."
Caesars Debt, M&A Updates
As noted above, Caesars concluded the first quarter with $13.2 billion in outstanding liabilities. While that's one of the industry's heftier debt burdens, it's also marked improvement from a the year earlier period.
In response to an analyst's question regarding when the company could shift from reducing debt to repurchasing its shares, Reeg noted that's a possibility next year while adding debt reduction is part of the operator's capital return story.
As for Caesars' potential participation in gaming industry consolidation, Reeg told another analyst that the company currently has no assets for sale and that's unlikely to change over the near-term. However, he noted the firm could change its mergers and acquisitions to more aggressive from neutral in the future.
"I don't think we're very far from where we would see — where we would flip to maybe looking offensively there versus kind of neutral, maybe something shows up, maybe it doesn't, but that would be in the calculus of what are you doing with your free cash flow as well," observed the chief executive.