Sports Betting Writer | October 31, 2023
Last updated: October 31, 2023
At Encore Boston Harbor, the ongoing legal battle continues as the casino seeks to maintain the favorable ruling it received from a lower court. Attorneys for the casino have filed an appeal with the US Court of Appeals for the First Circuit.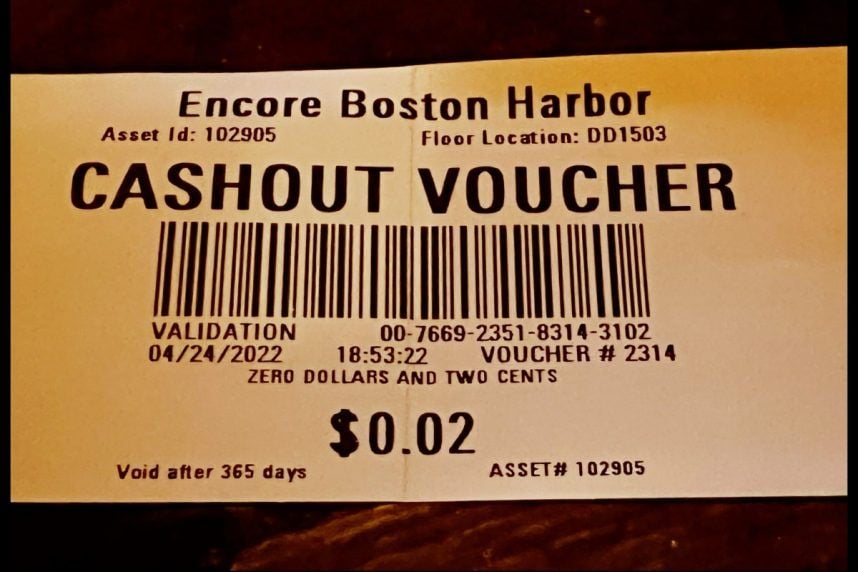 Richard Schuster, a Massachusetts resident, initiated a class-action lawsuit against Encore Boston Harbor and Wynn Resorts in August 2019. Schuster claimed that the integrated resort experienced technical difficulties with its ticket redemption units, resulting in the failure to dispense coins for change due to coin jams and other malfunctions.
Following the casino's decision to switch to coinless TRU machines shortly after its opening, Wynn officials stated that gamblers would receive cash equivalent to the nearest whole dollar value of the inserted voucher. Any remaining change less than a dollar would be printed on a new TRU ticket to be redeemed at a cashier window.
Schuster alleged that he was consistently shortchanged during his 12 visits to Encore Boston Harbor.
This lawsuit is just one of several similar cases where casino patrons have claimed to be shortchanged. MGM Resorts, Hard Rock International, and Caesars Entertainment have all faced comparable lawsuits, though none of these operators have been found guilty.
District Court Ruling in Favor of Wynn
In February, US District Judge Allison Burroughs ruled against Schuster's claims of "breach of contract, promissory estoppel, conversion," and violations of Massachusetts' consumer protection laws. Burroughs determined that Wynn's decision to use coinless TRUs did not violate state law or gaming regulations imposed by the Massachusetts Gaming Commission. She also dismissed Schuster's argument that the casino's use of coinless cashier kiosks was unethical and deceptive.
According to Burroughs, despite having the information on how to redeem the TRU tickets at a cashier window, Schuster chose to dispose of the tickets or use them to continue playing on the slot machines, instead of redeeming them.
Burroughs concluded, "Even when presented with the allegedly omitted information, Schuster's behavior remained unchanged. Therefore, his argument that the omission affected his actions fails."
Wynn's Request for Case Dismissal
Schuster has appealed Burroughs' ruling to the First Circuit Court of Appeals. In an 84-page brief filed last week, Wynn Resorts' attorneys have urged the court to dismiss the case.
According to Wynn's brief, Schuster was not subjected to any unfair or deceptive conduct during his visits to Encore Boston Harbor. The brief argues that Schuster was provided with clear instructions on how to redeem his TRU tickets but chose to use them differently.
The brief concludes, "Encore's conduct was lawful and not unfair or deceptive. Therefore, the summary judgment in favor of Encore on all of Schuster's claims should be affirmed."