At this point it's pretty clear there is a disconnect between the NCAA and the states who have legalized sports betting. We're up to 17 states and counting who now permit sports gambling within state lines. As that unfolds, the NCAA has remained steadfast in its opposition to gambling on college teams.
Adding to that complexity is what to do when students who attend those schools and are of legal age to bet want to put money on their local team?
It appears as though the NCAA has left it up to the schools themselves to decide what to do in these cases. Or rather, some schools are stepping up to fill what they see are gaps between the policies and what they see happening on the ground.
As it stands, there are some schools that have taken a more liberal approach to in-team betting. That is the case in Mississippi for example which was one of the first states to legalize gambling.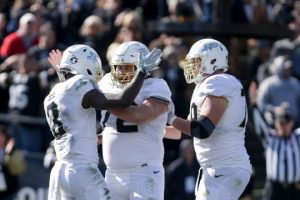 In that state, the university's approach has been to send the state's gambling commission a watch list for potential big bets, but otherwise are letting their students bet locally.
Iowa just started accepting legalized bets and their approach is one of education to discourage bets.
Meanwhile in some of the universities in Indiana, such as Purdue or in Pennsylvania they have taken the opposite approach and simply banned all students and employees of the school from betting on their own teams.
The jury is still out on what is the best approach to take, especially in the economic reality where more than $730 million in total bets were placed in the slow gambling month of August. What to do when March Madness comes around, or if one of these teams were to make it the NCAA Football championships?
Even Purdue has kept somewhat of an open mind as they've passed the strictest rules. In making the new rules that came out last week, the university president Mitch Daniels said, "because these are fuzzy questions, and they're new questions, we're not asserting that we've got it tacked down in all particulars".
St Joseph school has made some appearances in the NCAA tournament and pulled off a few upsets as well. They are one school banned betting, but realize how hard it is to enforce. It's one thing to stay on top of things in Pennsylvania, the home of the school, but what to do about New Jersey and Delaware which are just a stone's throw away?
It remains to be seen what standards get approached as the landscape unfolds. It will be fascinating to see which majority rules.