I know that ESPNews might not be the first thing you think of these days. But if you're a sports bettor, maybe it's time to put it on your radar.
If you haven't seen the channel lately, then you missed the remodel that's going on there right now. Ever since the end of August, the Worldwide Leader in Sports started showing new graphics on the left hand and bottom border of the screen that seem to be almost newly permanent fixtures.
That information, taking up a hefty chunk of real estate shows a constant flow of predictions, odds and lines.
One reason you may have already been watching ESPNews is because ever since March they have been the home of the network's only dedicated sports betting show, Daily Wager. The show was airing there from Monday through Friday and clearly it was a hit with the audience.
So much so, that the network announced last month that they would, "be moving (the show) to a new, permanent home on ESPN2 on August 20 and will be expanding with a new Sunday morning edition to air during the upcoming football season"
That Sunday morning show is currently airing on ESPNews for the first three weeks of the season. It's a one-hour show that airs starting at 9am. It too will be shifting to its big brother, ESPN2 starting September 29th.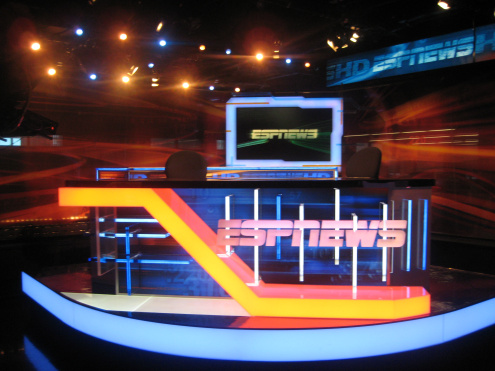 On the premiere show that aired last Sunday, the regular contributors were on the program to make their preferred props and top picks. For the record, they went 3-2 on Sunday and 1-2 on Monday.
The top nuggets from the show were then integrated into other ESPN pregame football shows throughout the day.
The show may lack in overall production value, but it still packed with useful betting news for the informed gambler.
Head of betting content at ESPN, Ilan Ben-Hanan recognizes there's still some work to do in bringing the show up to snuff saying, "We have great producers and a great staff working on it. They will tinker around the edges, no different than any other show, whether it's SportsCenter, NFL Live, or PTI."
But he's generally happy with it, saying, "it's gotten established much quicker than we thought." And his feeling is that the new wraparound content on ESPNews is "addictive and interesting".
But with Daily Wager moving channels, the question is where does that leave ESPNews?
The reality is, the channel is still looking for its vision ever since the 2017 cutbacks at ESPN saw major cuts to programming.
Currently it is mostly simulcasting ESPN Radio shows and showing overflow games that have no room on the other ESPN channels.
But the network is soon going to be opening its new studio at Caesars in Las Vegas and that content is going to be looking for a home. It could at least follow the Daily News model where ESPNews becomes the experimenting ground for new gambling content before it graduates to the more popular networks.
There are certainly analysts in the industry though who believe that within a few years ESPN will turn ESPNews into a full-blown gambling channel.
That seems like a bet worth gambling on.