Posted on: May 10, 2023, 04:37h. 
Last updated on: May 9, 2023, 07:38h.
Las Vegas casino hotels are generating record room tax revenue, as the resorts have been able to jack up their nightly rates amid surging inflation and strong demand. Much of that tax benefit goes towards the Las Vegas Convention and Visitors Authority (LVCVA), the government entity that's tasked with marketing Southern Nevada as a tourism and business hotspot.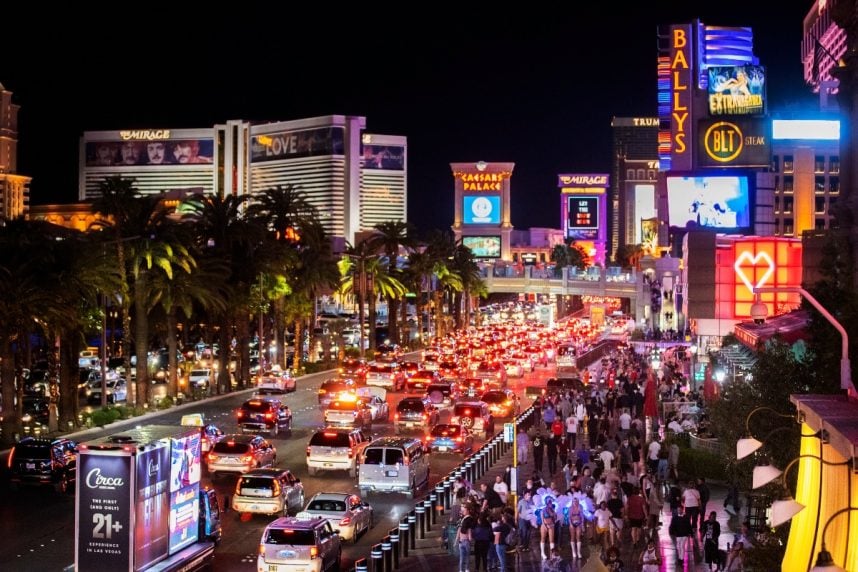 Hotels, motels, and other forms of lodging inside Clark County pay a nightly occupancy tax that varies based on the property's location up to 14%. The Strip isn't located in Las Vegas City proper but in an unincorporated part of town where the nightly transient lodging tax for most casino hotels is an effective rate of 13.38%.
With Las Vegas bustling and Nevada casinos winning at least $1 billion in each of the previous 25 months, hotels across the county have raised their rates. That's providing better funding for the LVCVA, a welcomed development after the marketing agency saw its income tumble in 2020 because of the pandemic.
Revenue Balloons
During the LVCVA's Board of Directors meeting held today at the Las Vegas Convention Center, which the agency owns and operates, LVCVA Chief Financial Officer Ed Finger revealed that the high hotel rates across town are benefiting the agency. Finger said the agency's hotel tax receipts are resulting in anticipated record revenue for the 2022-23 fiscal year.
Finger expects LVCVA income to total $448 million for the period running July 1, 2022, through June 30, 2023. Along with room tax income, the LVCVA generates revenue from running the Las Vegas Convention Center
Though overall visitation in Southern Nevada remains slightly below pre-pandemic numbers, visitor volume this year through March totaled more than 10 million guests. That's up 19% from 2022 but down about 3% compared with 2019.
While there are fewer visitors, hotels have managed to charge significantly higher rates. The average nightly rate for a room in Clark County this year has been $195 — $41 costlier than the same five months in 2022 and $55 more expensive than in 2019.
Strip casino rooms averaged $209 a night from January through March — up 28% year-over-year and 39% from 2019.
About 34% of the Clark County room tax goes to the LVCVA. The rest of the tax benefits public education and Clark County government programs such as transportation improvements.
The LVCVA estimated that it would receive $306.2 million in room taxes during the 2022-23 fiscal campaign. But Finger says the actual amount received is now expected to be considerably higher come the end of June.
Finger's initial budget for the LVCVA's 2023-24 fiscal year is set at $463.4 million — a nearly 6% year-over-year increase.
Ceremonial Groundbreaking
The LVCVA on Tuesday held a ceremonial groundbreaking on the nearly $600 million renovation of the Convention Center's North, Central, and South halls. The updates will bring those halls up to speed with the $1 billion West Hall, which opened in June 2021.
The overhaul of the complex is expected to last through 2025. Construction has been designed to accommodate the ongoing hosting of tradeshows, with minimal disruptions to scheduled events.