In the state of Maine there are currently up to five bills under consideration in the House that would legalize sports betting. Two have already been presented and three are being written as we write.
The sponsor of one of the proposals, Rep. Jeffrey Evangelos, an Independent from the Friendship party had a pretty friendly take on why he's leading the charge.
"It is pretty obvious why we are doing it, "he said, "It is fun and everyone else is doing it. Why shouldn't we get a piece of it too?"
He has a point as eight states have already started full-scale legalized sports gambling activities and up to two dozen more are currently considering it.
The reason for all of these competing proposals is that Maine's lawmakers can't find agreement on how much to tax it, who the organizing parties will be and where to spend the money.
In Maine, there is also plenty of concern about the negative effects of legalizing gambling. In fact, Senator Louis Luchini, D-Ellsworth is one of those lawmakers drafting a bill and in trying to sell his version, said, "Anytime we expand gambling we have to consider the negative effects. That always becomes part of the equation. Gambling bills are always controversial. It is something you have to take the time and meet with all the parties and hash out something responsible.
Evangelos' bill is modeled very closely off of the New Jersey law. L.D. 1348 would have a 25% tax on all revenues -online and offline and would make sports gambling on professional and amateur sports open to anyone 21 years and older. There would also be a $30 000 licensing fee for any establishment looking to add the service. The revenues would go to supports public education.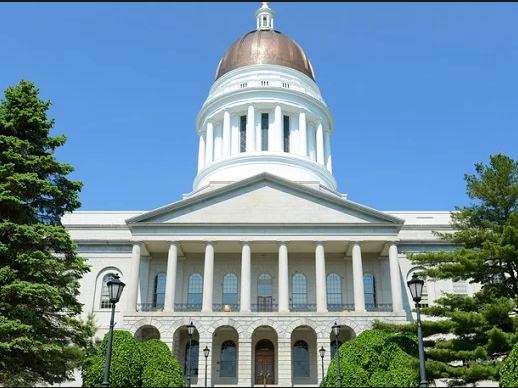 The other version that's been put forward is by Republican Dustin White. L.D.1515. His bill would only have offline gambling -at racetracks and betting parlors, but it would be open to anyone 18 years and older. The tax would be 18% and the licensing fee set at $5000. The revenues would be split where a majority would support the harness racing industry and the rest would go to public education, college scholarships and Indian tribes in Maine.
White believes that by restricting sports gambling to offsites, that would help stimulate and support local business in a way that online gambling would not.
A recent analysis by the Associated Press has shown that with the early returns in for the six new states that already legalized gambling in 2018, not all the results have been positive.
Delaware and New Jersey are the only ones whose revenues have been on target with projections. In Rhode Island for example, they were hoping to make $1 million a month in revenues, but at this point they are making $50 000.
With numbers that small, Maine needs to be careful what it bargains for as the effort might just not be worth it.