No Dale Earnhardt Sr. or Jr., no Jeff Gordon and a declining Jimmie Johnson have all led to declining popularity in NASCAR racing. But, with the expansion of legalized sports betting, NASCAR is hoping a big play in that domain will help to fuel a rebirth. The feeling is that that they have the perfect sport to mesh well with the in-gaming betting experience.
With that in mind, NASCAR on Friday announced a new partnership with Genius Sports to be the exclusive provider of data to licensed sportsbooks.
The plan is for Genius Sports to use NASCAR's official data feed to create specialized betting opportunities for the legal sportsbooks.
As a result, Genius Sports will be able to give bookies up-to-the-minute odds along with varying prop bets along with traditional bets.
The unpredictable nature of NASCAR racing, with spectacular crashes, drafting and mechanical issues means that race leaders change constantly during the race. Add in the gambling angle and bettors will be able to make multiple picks in real time and NASCAR is banking on the fact that it'll bring a new wave of interest and viewers to their product.
The possibilities are literally endless for what bettors could wager on in a race.
"What could happen in the next five seconds? What could happen in the next lap? It opens the door to a massively exciting new market," said Genius Sports spokesman Chris Dougan. "NASCAR is now starting to recognize this is a huge fan engagement tool. We give them that distribution and that reach."
The odds of winning for any given driver could fluctuate in real time and bettors will be able to wait until optimal moments before placing their bets.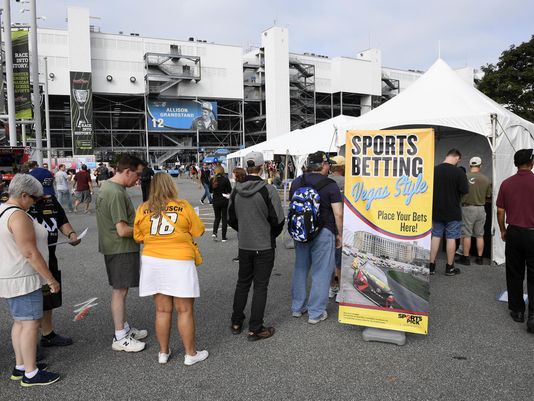 It's got Brain Herbst, the senior vice president of broadcasting and innovation at NASCAR excited as he chimed in saying, "We feel that NASCAR has a little more of an upside in the in-race event experience than some of the other stick-and-ball sports"
The changes are expected to take six to eight months to come online, likely just in time for the 2020 racing season.
This weekend NASCAR is at Dover International Speedway in Delaware, one of the first states to legalize sports gambling since the Supreme Court reversed course on the issue last year. The Dover Downs Hotel & Casino is on the same property as the track and this year the sportsbook will be set up on site to take bets. It's the only track where that kind of access is allowed.
But by next year, NASCAR is expecting the entire sport to take a monumental leap forward in the sports betting game.
Big picture, according to Dougan, ""I think a whole new generation and a whole new demographic could become engaged with NASCAR." We second that notion.