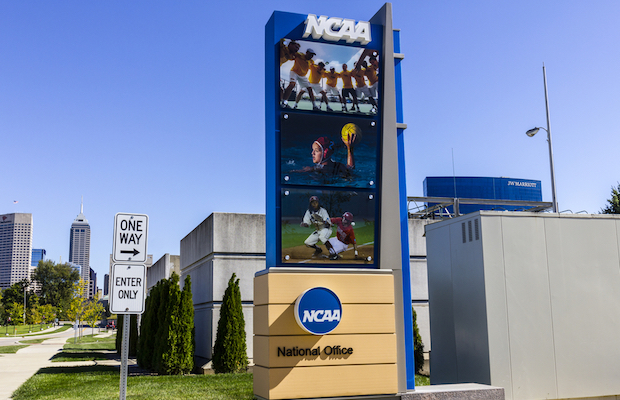 NCAA officials took part in a panel at the International Conference on Gambling and Risk-Taking happening at Caesars Palace. In it, they shared their concerns that the changing landscape of legalized sports gambling is having on college sports.
Naima Stevenson Starks, NCAA's deputy general counsel shared their stance saying, "The NCAA has always been attentive to gambling despite our 'Don't bet on it' stance that the association has had."
During the panel they shared the ways the NCAA is going to protect its student athletes and the integrity of the game.
With so many more of their student-athletes now living in states where gambling is legal, it is certainly a growing challenge to monitor and control. And the NCAA has new decisions to make concerning with this growing acceptance for sports betting.
For many years, the long-standing policy has been to ban NCAA championships from taking place in states with single-game betting. That not only includes the NCAA Finals, but regional finals as well. That is why Oregon was banned as they used to offer legal betting on the sports.
But the NCAA reversed course on May 3rd, lifting that ban.
Stevenson Starks shared some of the other rules that are currently under consideration for re-evaluation. Those include signing sponsorship and advertising agreements with companies that promote sports betting, giving permission for college players to bet on professional sports and staging events at venues that have the capability for in-house gambling.
One change the NCAA would like to implement, but which student privacy laws make very difficult to implement would be to have eligibility reports before each game. The feeling is that this would prevent gamblers from going directly to the students to gain inside information which could help to gain an edge when betting on particular games.
The NCAA shared some of the results of their own in-house studies on student gambling. They have been researching students' attitudes and gambling habits ever since 2004. In the most recent year, 2016, 52.8% of all male athletes consider themselves social gamblers and the same is true for 37.5% of female athletes. 24.3% of male athletes bet on sports in that year and 4.5% of women.
Tom Paskus, the NCAA's principal research scientist shared the NCAA's concerns over those numbers saying, "A lot of them on the men's side, that is becoming their entry point into gambling. It used to be card playing, but more and more it's becoming sports wagering."