Sports Betting News: The End of Yellow Card and Penalty Bets?
Posted on: August 28, 2023, 06:35h.
Last updated on: August 28, 2023, 06:35h.
The world of sports betting is constantly evolving, and recent developments may lead to the end of betting on yellow cards and other penalties. High-profile match-fixing scandals have raised concerns among sports authorities, prompting discussions about banning such bets.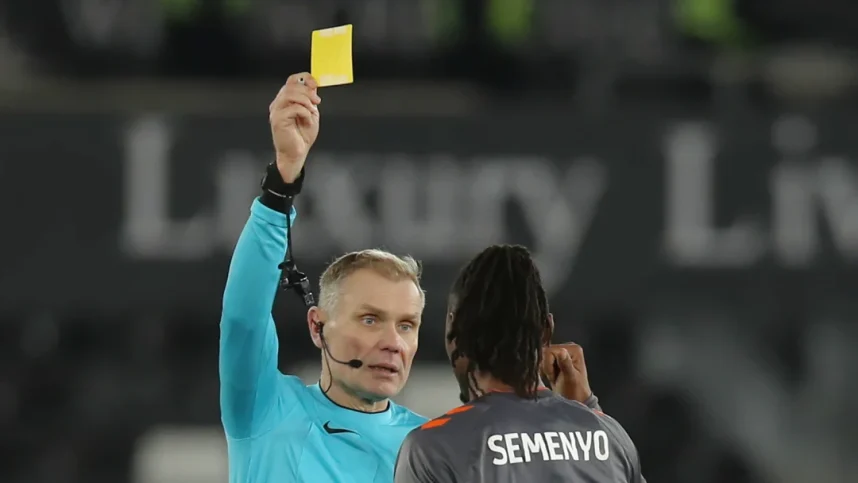 Concerns of players manipulating games for personal gain are growing among English sports authorities, specifically in the Premier League. In response, the Football Association (FA) is urging betting companies to stop offering yellow card bets. Discussions have already taken place, suggesting an imminent change.
No More Bookings In Regulated Sportsbooks
The Premier League is likely to support a ban on betting not only yellow cards but also other penalties, including red cards and other bookings.
The FA is considering further possibilities, such as prohibiting bets on corner kicks and other in-game actions. Some operators, like Unibet and 32Red, have voluntarily stopped offering bets on penalties and similar events, as reported by the Daily Mail.
Germany and Sweden have already implemented a ban on yellow card betting, and the FA's move could be part of a global trend. The FA and the Premier League are in favor of the ban, but it still requires the support of all regulated sportsbooks.
While the exact timing and acceptance of the change remain uncertain, the FA needs to convince regulated sportsbooks to comply. It's important to note that the ban would only affect regulated platforms, as unregulated betting sites can continue to offer such bets.
The Changing Tide
The ongoing investigation into West Ham United's Lucas Paqueta highlights the scrutiny surrounding player misconduct. Ivan Toney's admission of breaking anti-betting rules and multiple investigations involving players like Granit Xhaka and Ciaran Brown emphasize the need for action against potential match-fixing.
Luiz Henrique, currently playing for Spain's Real Betis, is also under investigation for alleged involvement in sports betting fixing in Brazil. Investigations are ongoing, indicating the seriousness of the issue.
In both the USA and the UK, athletes and officials are prohibited from betting on sports. The FA's decision to ban yellow card betting aligns with the regulations in place across different sports and countries to maintain fairness and integrity.
Banning yellow card and penalty bets may help prevent match-fixing incidents, but it is essential for betting platforms to cooperate for effective implementation.