Published: September 11, 2023, 10:16h. 
Last updated: September 11, 2023, 10:16h.
Baltimore Ravens running back J.K. Dobbins suffered a season-ending Achilles injury during the team's NFL season opener against the Houston Texans.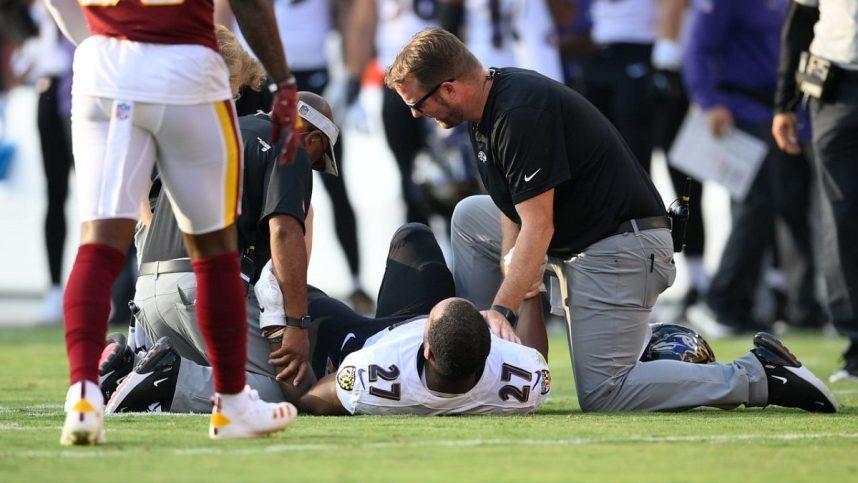 The injury occurred in the third quarter during a passing play when Dobbins was tackled on the two-yard line, just missing a second touchdown of the game.
"You can't replace a J.K.," said Ravens guard Kevin Zeitler. "He's a special guy, both on and off the field. He helps keep his team moving and all that. So, an absolute gut punch and heartbreaking."
Before his injury, Dobbins rushed eight times, had two receptions, contributed 37 yards from scrimmage, and scored one touchdown.
Despite the injuries to Dobbins and other starters, the Ravens managed a 25-9 victory over the Texans. Backup running back Justice Hill stepped up and scored two touchdowns while filling Dobbins' role.
Unfortunately, this is not the first season-ending injury for Dobbins. He previously suffered a knee injury in the final preseason game of the 2021 season, causing him to miss the entire year. He only returned to the Ravens midway through the 2022 season, playing in eight games but still recovering from his ACL injury and reconstructive knee surgery.
Dobbins was ranked in the top 20 among running backs heading into this season, making his loss a significant blow for the Ravens.
"Kind of crestfallen for him," said Ravens head coach John Harbaugh. "We will support him during his rehab, and he will come back. Yeah, it's really hard for him."
Looking ahead, Dobbins is expected to miss the remainder of this season and potentially most of the 2024 season due to the typical 18-month recovery time for a ruptured Achilles injury. This injury could potentially threaten his career as running backs often struggle to fully recover from Achilles injuries.
The Ravens started the season strong, winning their Week 1 matchup against the Texans with a 16-point margin. As a result, their Super Bowl LVIII odds slightly decreased from +1800 to +2000. Their odds to win the AFC Championship are currently +1000.
In Week 2, the Ravens will face the Cincinnati Bengals in a divisional match. The Bengals defeated the Ravens in a playoff game last season, and the Ravens will now enter as +3 road underdogs.
The Ravens are considered co-favorites with the Cleveland Browns to win the AFC North, both at +200 odds. The Bengals' odds to win the division slipped from +140 to +245 after a loss in Week 1.
Despite the setbacks, the Ravens are still favored to make the playoffs at -180 odds, but there is a chance they could miss the postseason with odds of +140.