Caesars Entertainment (NASDAQ: CZR) Tom Reeg believes the operator's effort to bring a casino to Times Square in New York City is worth the gamble and estimates the venue will be a significant source of tax revenue for the state.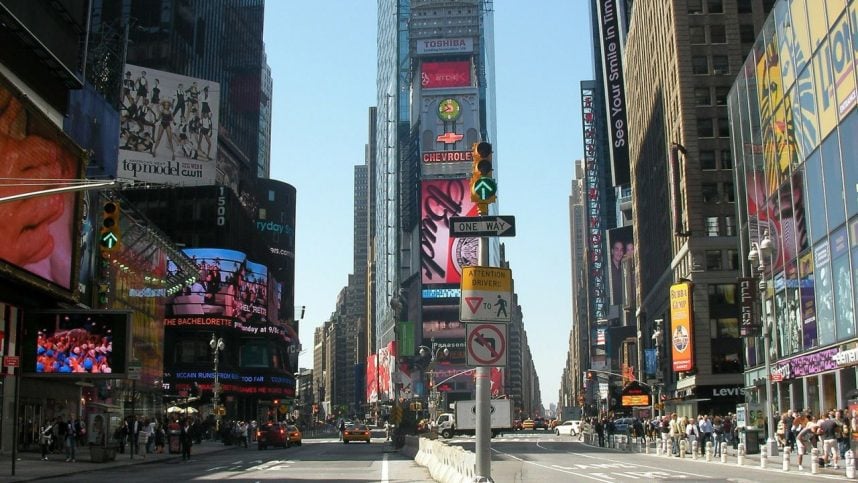 In an upcoming interview with Tara Rosenblum of News12 Connecticut's "Power & Politics" show, Reeg said Caesars is already paying "north of $100 million" in sports wagering taxes to the fourth-largest state and that the Times Square casino would "exceed that by a healthy margin."
Caesars is one of more than 10 gaming companies vying for just three New York City-area casino permits. That competition is all the more intense because it's widely expected, though not confirmed, that regulators in the state will award two of the licenses to MGM's Empire City in Yonkers and Resorts World New York in Queens, which are currently slots-only venues.
In addition to Caesars, other big names competing for the permits include Bally's, Hard Rock International, Las Vegas Sands and Wynn Resorts. The Times Square casino group is led by Caesars, real estate developer SL Green and Jay-Z's Roc Nation entertainment agency.
Reeg Looks to Allay Times Square Casino Concerns
As is the case with nearly all of the other downstate casino pitches, the Times Square plan has its share of supporters and detractors.
The latter camp is comprised mostly of businesses and locals that fear a gaming venue would harm the neighborhood's storied live theatre industry as well as other area businesses, such as restaurants.
Caesars is taking steps to allay those concerns. Earlier this year, the gaming company said it will leverage its popular Caesars Rewards loyalty program so that participants can convert points to gift cards for use at Time Square venues, including hotels, restaurants, retailers, comedy clubs, and entertainment venues.
Other detractors fear a gaming venue would add traffic to the already congested Times Square area, but Reeg told News12 the operator is diligently working on safety and traffic plans.
"We have traffic consultants all ready with plans where we would reduce the congestion in Times Square from where it is today. And I think if opponents take the time to sit down and hear what we're planning, what my experience has been, is they walk away with a different opinion," the chief executive said in the interview.
Times Square Casino Could Be Coup for Caesars
New York City is arguably the most desirable untapped gaming market in the US — perhaps in all of the developed world. That explains why Caesars and so many of its competitors want in on the largest US city.
For Caesars in particular, winning one of the downstate casino licenses would represent a significant avenue for diversifying its top and bottom lines. By some estimates, half of the operator's share price is attributable to its Las Vegas properties though it's the biggest casino operator in the US by number of venues.
"This is a worthwhile prize," Reeg told Rosenblum of Caesars' New York effort. "I am feeling lucky."
The post Reeg Sees Caesars Times Square Casino Tax Revenue at North of $100M appeared first on Casino.org.