Sports Betting: Las Vegas Grand Prix Imposes Metal Cages to Block Views
Last Updated: November 1, 2023, 08:31h.
In a disappointing turn of events for sports enthusiasts, metal cages will obstruct views of the upcoming Las Vegas Grand Prix for pedestrians crossing the bridges above the track. These cages, part of an elaborate view-blocking system installed by Formula 1 crews, will prevent fans from catching a glimpse of the prestigious race or snapping selfies by the Sphere in the weeks leading up to the event.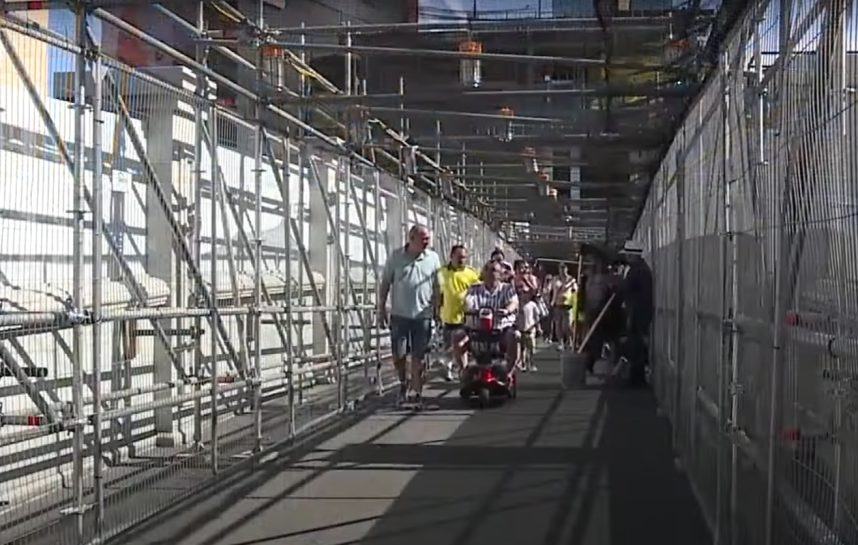 Previously, it was reported that privacy screens were being removed, but it has now been revealed that the screens are just one component of the comprehensive system. These gigantic metal cages, which will eventually be covered, will line all bridges spanning the racetrack. While their official purpose is to prevent pedestrians from tossing objects onto the track, they also serve to deter individuals from reaching or damaging the privacy screens and to ensure the smooth flow of pedestrian traffic across the bridges.
For an inside look at the bridges under construction, watch the YouTube video uploaded by Jacob Orth, a frequent contributor to Casino.org.
Locals and Tourists Outraged by Caged Bridges
In response to the video shared on Orth's Twitter page, both Las Vegas locals and tourists express their dissatisfaction with the intrusive measures that are causing inconvenience to visitors who have no interest in the race.
"The Las Vegas Tourism board has done an outstanding job of making people feel welcome," commented @andy73690988 sarcastically. "Unbelievable."
Adding to the frustration, @JordanXRP1985 remarked, "That bridge looks like a pen for cattle and farm animals! Get along now, you slow-moving tourists! There's nothing to see here!"
One user, @alex_nassif, raised the question of timing, saying, "I understand the need for this, but why implement it so early? It could have been done closer to the race."
Expressing disappointment with the impact on the community, @JasonSarcinelli stated, "Destroying tourists' trips, affecting locals' lives for 6 months… all for the benefit of a minuscule percentage of the population who will actually profit from the event. GFY VEGAS."
@matteberhardt1 echoed the sentiment, commenting, "No words. It's disgraceful that F1 would allow this in Vegas. European cities aren't subjected to such treatment. It reflects poorly on both F1 and Vegas."
Condescendingly, @epalascianook declared, "Cross the bridge and don't you dare look, you peasants."
Expressing their disdain for the event, @flickrfumes wrote, "One event that pretty much ruins the whole strip experience. I'm hoping it incurs significant financial losses."