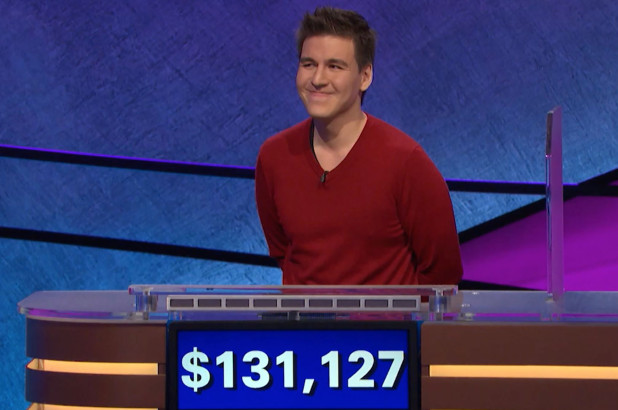 Two days ago we reported on James Holzhauer's continued record run on 'Jeopardy!' and we are happy to report that if Wednesday's episode is any indication, there is no end in sight for the professional sports bettor's time on the show.
If anything, the Las Vegas resident appears to be getting better with each passing day as he put on a clinic of total dominance on Wednesday's show.
In his first eight episodes, prior to this week he already managed to shatter the all-time earnings for one show when he won $110,914. When he hit that total, it was $33,000 more than the previous record and his end of week total put him into second place in all-time winnings with $460 479.
Last Friday, he finished up his week by posting the second highest total in the game's history by bringing in another $89,158.
Well we are just three days into this week and he now owns the top-four spots on the list for most winnings in one show after a back-to-back dominant performances.
On Tuesday he posted the second highest total to date by taking in $106,181
Wednesday night he shattered his own record when he won $131,127 which is $20,213 more than his old record. It brought his grand total to $697,787 in just 10 shows. It's put him on track to break Ken Jennings all-time $2.5 million record in 36 games. Jennings needed 74 games to hit that mark.
When he broke the record the first time, he purposely bet the amount that would total his daughter's birthday. This time, under the correct answer he wrote, "this is for you granny" and looked up to heaven in tribute to his grandmother.
In previous interviews when asked what his secret is, he shared, "My approach isn't complicated: Get some money, hit the Daily Doubles, bet big, and hope I run hot. The real advantage I draw from my job is that I don't have a mental block about betting $38,314 on one trivia question. It's only money."
But that summary doesn't begin to tell the dominance and the way he intimidates his opponents. In the first round of 'Jeopardy!' on Wednesday he bounced around the board, opening up every high dollar clue first and building up a $10,000 lead by the first commercial break.
In conveying that he is all business, he does not take the time to say the category or the full dollar amount he's choosing. He is methodical, focused and even with the occasional friendly smile, comes across as a man on a mission.
It also helps that on his record-breaking day, he literally got every question right that he answered -40-for 40, including both Daily Doubles in the second, big-money round.
But he saved the best for last in Final 'Jeopardy!', proving just how true his words are with his big betting, fearless style. Holzhauer entered the last round with $71,114 to his name, meaning his final bet was a tidy $60,013. It is hard to imagine playing the game any better, but then again, there's always Thursday, so stay tuned.