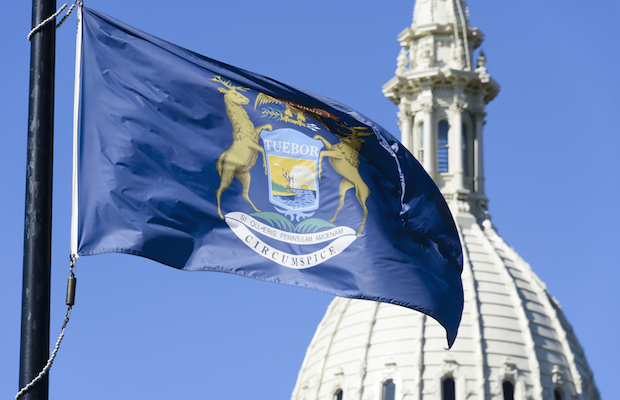 Michigan, with nearly 10 million residents is the 10th largest state in the union. They took a big step forward on Wednesday towards legalizing sports betting when the House of Representatives passed a huge sports betting bill.
It was very much a bipartisan vote that passed 63-45 and touches upon sports gambling, fantasy sports and internet gaming.
It includes the ability to gamble on traditional forms of betting and live betting as well, both in person and through mobile means.
The low tax rate proposed in the bill however could lead to an early death as Governor Gretchen Whitmer has expressed her disappointment at what that will mean for state revenues. As a result, she may veto the bill if things remain at that level.
The tax rate is being set at 8.75% for in person betting plus an additional 3.25% in Detroit's casinos. Online betting would be taxed at 4% to start, eventually rising to 23%.
It is estimated that the market will grow to $225 million in short order and that will bring in $30 million in revenues to the state.
Those numbers are provided by the lead sponsor of the bills, Republican Brand Iden.
Whitmer's spokeswoman, Tiffany Brown expressed the Governor's reservations about the bill as is, saying, ""We continue to have revenue concerns regarding the bills' negative impacts on the School Aid Fund. The administration has taken every meeting we've been invited to regarding this legislation and will continue to work closely with the bill sponsor, tribal leadership and stakeholders to attempt to address our concerns."
The Governor's belief is that there is limited resources for betting in the state and that people who start betting on sports will shift their funds from betting on the state lottery. Money from that lottery goes to support the School Aid Fund.
To help make up for that and help grow the difference, she is proposing a 12% rate on sports and fantasy sports betting. Online gaming rates would be between 2% and 19% depending on the games and the amount of money being gambled.
Michigan's 8.75% tax rate would put it as the second lowest in the country after the 6.75% that Nevada collects. Nearby Indiana which passed its own sports betting legislation this year is collecting 9.5%.
The next step for the bills will now move to the Senate for debate and consideration, so the fight is far from over.
The legislature in Michigan has been in favor of legalizing sports betting since PASPA was reversed in May of 2018. They passed a bill last year only to see former governor Rick Snyder veto it for similar reasons last year.