Date: October 10, 2023, 04:33h. 
Last Updated: October 10, 2023, 04:33h.
Charitable organizations in Arizona have been caught off guard by the legality of slots-style electronic bingo machines in the state, leading to a crackdown by regulators.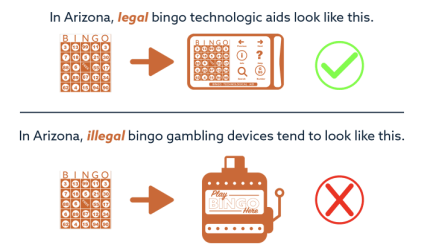 Several charities, including the American Legion and Veterans of Foreign Wars, have deployed numerous electronic bingo machines. However, state regulators have consistently stated that these devices are illegal. The primary company responsible for marketing these devices to Arizona charities is now facing criminal prosecution, and regulators are warning charities of potential legal trouble if they continue to use the machines.
The Arizona Department of Gaming recently issued a notice to bingo licensees emphasizing that "possession of a bingo gambling device remains a crime."
Since September 1, state regulators have visited at least 17 facilities across Arizona to enforce gaming laws and licensing regulations for bingo establishments. These visits follow a previous letter sent to licensees expressing concern about the use of electronic machines, according to news reports.
Under Arizona law, only traditional live-call bingo games are authorized, where balls are pulled and numbers are called in front of players. The electronic devices in question function similarly to slot machines and allow individuals to play at any time, with results based on bingo pulls conducted by employees of the hosting charities.
2017 Law and Controversy
The current situation arises from a 2017 law that granted charitable bingo providers the ability to use electronic devices in limited circumstances to comply with the Americans with Disabilities Act.
According to this law, individuals with disabilities can use electronic tablets if they are unable to mark cards manually. However, the law was not intended to permit the widespread use of slots-style machines in lodges throughout the state.
This was the perspective presented at the time by State Sen. Sonny Borrelli (R), the chief sponsor of Senate Bill 1180, which introduced the legislation.
All this legislation does is allow these non-profit organizations to use a technological aid that complies with the ADA," stated Borrelli during a 2017 hearing.
At the time, advocates warned that permitting charities to operate slots-style devices would potentially violate Arizona's gaming compact with Native American tribes, who have exclusive rights to offer casino-style games.
Changing Perspectives
Borrelli has since changed his position and is now accusing the state of targeting veterans groups that rely on the revenue generated from these machines. Despite his accusations, regulators maintain that their objective is to protect Arizonans, including veterans and seniors, from unregulated and potentially predatory gambling machines that are not subject to proper inspections or monitoring.
"That allegation is as incorrect as it is offensive," wrote Arizona Department of Gaming Director Jackie Johnson and other regulators in a letter to Borrelli. "What we are actually doing is protecting Arizonans, including veterans and seniors, from unregulated, potentially predatory gambling machines that are not properly audited or monitored, which is our statutory mandate."
Regulators have consistently interpreted the law the same way, irrespective of the administrations of former Republican Gov. Doug Ducey and current Democratic Gov. Katie Hobbs. In a notice issued in 2017, regulators explicitly stated that electronic bingo devices are illegal, using similar language to the notice released this year. However, on-site inspections are a new measure. So far, no charities have faced formal sanctions for offering these machines.
No comments were provided by Borrelli's office when contacted by Casino.org for a response.
Prosecution of Entrepreneur
Borrelli's legislation was drafted with assistance from a local gaming entrepreneur, Greg Mullally, who has claimed to have sold millions of dollars worth of these machines to veterans groups and others in Arizona.
Mullally, the founder of Lynxx Gaming, has openly discussed his involvement in drafting the legislation and his subsequent financial success. However, he is now facing felony charges along with three other individuals connected to Lynxx Gaming, with a trial expected to take place next year.
Mullally's lawyer could not be reached for immediate comment.