The high-speed train that Brightline West has proposed to connect Las Vegas and Southern California chugged another step closer to reality this week.
On Wednesday, the US Department of Transportation announced it had awarded $25 million for the construction of passenger stations in the high-desert California towns of Hesperia and Apple Valley.
"This will provide a direct link between the High Desert, Rancho Cucamonga, downtown Los Angeles, and our own East Valley, reducing the need to rely on personal vehicles for daily commutes, improving air quality, and closing the live-work gap for millions of people," Raymond Wolfe, executive director of the San Bernardino County Transportation Authority, which received the grant, stated in a press release distributed on Wednesday.
This award, made through the Biden Administration's Rebuilding American Infrastructure with its Sustainability and Equity (RAISE) discretionary grant program, bodes well for the project. However, the real deal-breaker is the $3.75 billion that Brightline West applied for, along with the Nevada Department of Transportation, from the Federal-State Partnership for Intercity Passenger Rail grant program in April. That program, authorized by the Infrastructure Investment and Jobs Act, publicly funds projects that expand or establish new intercity passenger rail service.
So far, the US Department of Transportation also approved $1B in private activity bonds, with the actual borrowing up to the states of California and Nevada.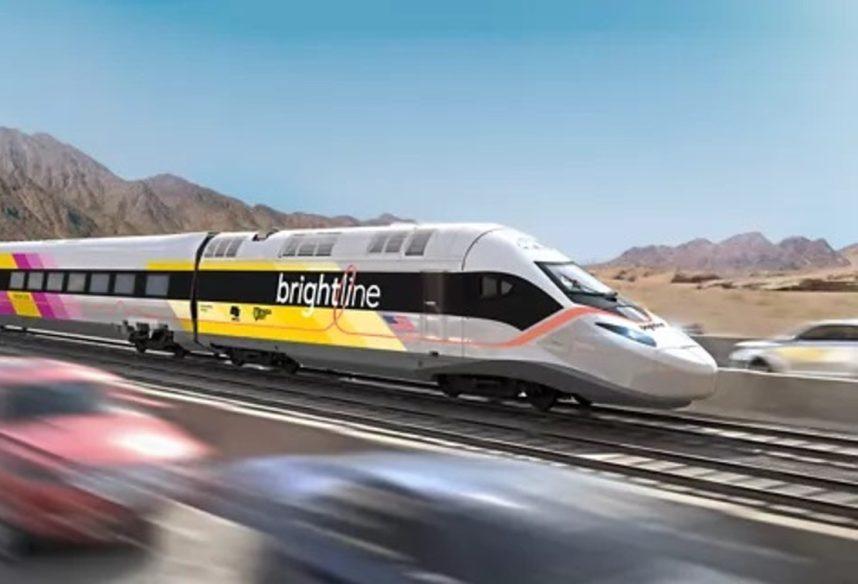 Off the Rails
Brightline West claims its $12 billion project will be the first truly high-speed rail system in America, with trains capable of speeds of 200 miles per hour whooshing past vehicular traffic along Interstate 15's right of way. Brightline projects an average Las Vegas-Los Angeles travel time of 2 hours and 15 minutes.
According to Brightline, the project will eliminate 3 million cars annually from the travel corridor and create 35K jobs, including 10K union construction jobs and close to 1,000 permanent jobs for operations and maintenance. In February, Brightline West entered an agreement with 24 rail unions, committing it to use organized labor to operate and maintain the system.
According to Brightline West, the project will generate more than $10 billion in economic impact to California and Nevada.
Station to Station
In July 2021, Brightline purchased 110 acres for its Las Vegas terminus station at Las Vegas Boulevard between Warm Springs and Blue Diamond roads, only three miles from the southern end of the Las Vegas Strip. Brightline West is also expected to include a stop at the future Southern Nevada Supplemental Airport, which is expected to open by 2037 between Primm and Jean, Nev.
At its Southern California end, the high-speed rail will connect passengers to Metrolink's San Bernardino commuter rail service for the final 40 miles to LA's Union Station. Originally, plans called for a California terminus in Victorville, Calif. But in October 2022, Brightline brought its terminus 40 miles closer to LA by purchasing 5 acres for a station in the city of Rancho Cucamonga.
Slow Train Coming
Brightline West said it hopes to build its rail line in time for the 2028 Olympics Games in Los Angeles. Even by that optimistic timetable, the project will have taken nearly 20 years from the time it was first envisioned.
Planning for a high-speed rail link connecting Las Vegas with Southern California began in 2009. That's when the Federal Railroad Administration completed a draft environmental plan for a project, which was then known as DesertXpress. Brightline acquired the project in 2018.
The post Brightline Wins $25M Grant to Build Vegas-SoCal High-Speed Rail Stations appeared first on Casino.org.