Posted on: October 2, 2023, 02:28h. 
Last updated on: October 2, 2023, 02:28h.
Love it or hate it, one of the biggest storylines this NFL season through week four is Taylor Swift's budding romance with Kansas City Chiefs star Travis Kelce.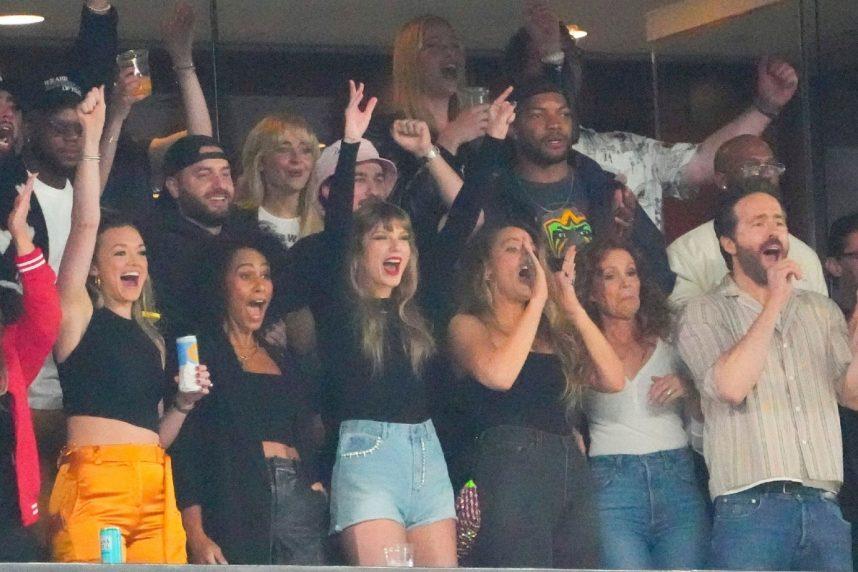 After celebrity gossip speculated about the amorousness, Swift, a 12-time Grammy Award winner, attended the Chiefs game last week in Kansas City where the team beat the Chicago Bears 41-10. Swift, 33, was on hand again last night when the Chiefs visited the New York Jets outside New York City in East Rutherford, NJ.
Many sports fans are already tired of the media's seemingly incessant coverage of the pop superstar's newfound interest in the NFL. Television broadcasts have repeatedly cut to Swift's box after big Kelce and Chiefs plays, and social media feeds have been clogged with Swift-Kelce content. She wasn't the only major star in her suite on Sunday night, as Swift was joined by couple Ryan Reynolds and Blake Lively, Hugh Jackman, and Sabrina Carpenter.
Though some NFL fans aren't amused, Swift's appearance at each of the last two Chiefs games might be paying off for sportsbooks.
Activity Increases
Swift's allegiance of fans call themselves "Swifties," a term that gained popularity in the late 2000s that Swift herself said in 2012 she found "adorable." The singer secured a trademark on the term in March 2017.
A spokesperson for Tipico Sportsbook, which is live in Colorado, Iowa, New Jersey, and Ohio, told Casino.org today that the platform has seen a considerable uptick in betting activity related to both the Chiefs and Kelce since Swift first appeared at a Kansas City game last week.
Tipico data shows the Chiefs garnered 27% more bets from week three to week four. Perhaps more indicative of Swift's impact, Kelce player prop bets have surged 115% during the same time period.
Tipico added that a Travis Kelce anytime touchdown bet garnered 122% more action in week four than it did in week three. That could indicate that many Swifties are betting on Kelce scoring a touchdown, or at least hoping he reaches the endzone.
Did the biggest story in football translate over to the sports betting world? According to the latest data points from Tipico Sportsbook, the answer is yes," a Tipico statement to Casino.org read.
The Chiefs-Jets game was by far Tipico's most bet NFL game of week four, with the Sunday Night Football contest accounting for 23% of its weekly action.
Kelce Outcomes
For the presumed Swifties who bet on Travis Kelce last night, his performance likely ended in losses for the new sportsbook customers.
Kelce's over/under for how many receiving yards he'd end the game with against the Jets with went the under. Sportsbooks had the line at 71.5 yards, but Kelce's six catches totaled just 60 yards.
The Chiefs were also heavy favorites, with the spread at around 8.5 points. Kansas City prevailed by only a field goal 23-20. Kelce also did not score a touchdown, meaning all of those anytime TD wagers on Kelce went to the house.