Posted on: July 3, 2023, 04:24h. 
Last updated on: July 4, 2023, 11:34h.
In Monday's truncated trading session, DraftKings (NASDAQ: DKNG) stock ended the day with a 1.58% decrease. However, it has risen by 35% over the past 90 days and 129.59% year-to-date.

The impressive gains may indicate that the gaming stock is poised for a retreat, especially with the upcoming football season still two months away. Nevertheless, the stock's technical analysis suggests a more positive outlook in the near future, especially with the recent closing above the important $26 level.
The sports gambling name is also breaking out of a weekly base or cup pattern, while boasting long-term support from its ascending 20-day moving average. Whenever the latter has failed this year, the 50-day trendline has stepped in as a floor to contain price action," according to Schaeffer's Investment Research.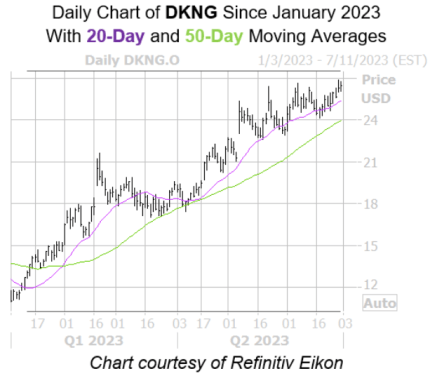 The stock's continued trading above $26 reduces the chance of a pullback and increases the likelihood of reaching $28, a price point not seen since early 2022.
Options Market Signals on DraftKings Stock
As an emerging growth stock known for significant event-driven movements, DraftKings is often targeted by options traders.
Therefore, the options market can offer valuable insights into the future of the online sportsbook operator's shares in the near term, and this may be happening right now.
"It's also worth noting that DraftKings stock has attractively priced premiums with a Schaeffer's Volatility Index (SVI) of 44%, which is at an extremely low 1st percentile of annual readings. To put it simply, now is a great opportunity to bet on the stock's next upward move using options," added Schaeffers.
The research firm also noted that there is high open interest in DraftKings' $25 strike puts, suggesting that professional traders who hold the stock are looking to hedge their positions. This $25 level could provide support if the gaming stock experiences a short-term pullback.
Events That Could Affect DraftKings Stock
DraftKings is set to announce its second-quarter earnings on Friday, August 4, and it should be noted that the stock has historically made significant post-earnings moves.
This pattern could repeat next month, especially if the company indicates progress towards positive earnings before interest, taxes, depreciation, and amortization (EBITDA), raises its 2022 revenue guidance once again, narrows down its time frame to profitability, or accomplishes all of the above.
It's possible that the operator's plan to achieve profitability will be accelerated due to the upcoming launch of online sports betting in Kentucky and North Carolina early next year. Currently, these events are unlikely to significantly impact DraftKings. However, analysts and investors would likely be satisfied with positive EBITDA and further evidence of cost control and reduction.