Posted on: April 13, 2023, 10:14h. 
Last updated on: April 13, 2023, 10:22h.
Ground was broken Wednesday on the next Mississippi casino. The project comes from Choctaw Resort Development Enterprise, Inc. (CRDE), the gaming and hospitality subsidiary owned and operated by the Mississippi Band of Choctaw Indians.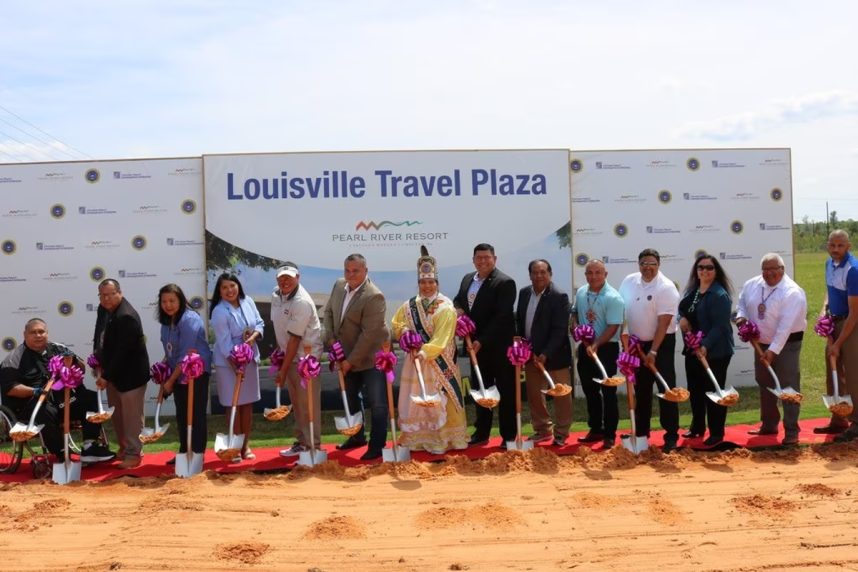 Tribal officials yesterday moved the first dirt at the construction site of what will become the "Louisville Travel Plaza." The 18,000-square-foot, $25 million project will result in a boutique casino, family-friendly restaurant, and diesel truck stop and gas station.
As for the casino, the facility will include 150 slot machines and sports betting.
This project has been discussed for some time and today, it is great to see it come to fruition as we break ground," said Choctaw Tribal Chief Cyrus Ben. "This is a new project for CRDE that represents business growth for our tribe."
The Mississippi Choctaw Indians own and operate three casinos in the state. Located at the tribe's Pearl River Resort complex are two of the casinos, the Silver Star and Golden Moon. The Choctaws also run the Bok Homa Casino in Heidelberg.
Naming Opportunity
The Choctaw's casino undertaking in Louisville, a small central Mississippi town that's home to just 7,000 people in Winston County, will be the tribe's smallest casino.
Silver Star's casino floor spans 90,000 square feet and has 1,200 slots, 40 table games, and a sportsbook. Golden Moon's 70,000-square-foot casino has 1,150 slots, 25 table games, and a 14-table poker room. The Pearl River Resort offers more than 1,100 on-property hotel rooms, numerous restaurants and bars, convention space, a spa, and an 18-hole championship golf course called the Dancing Rabbit Golf Club.
Bok Homa, about 100 miles south of the Pear River Resort casinos, is a 27,000-square-foot facility with about 700 slot machines, 10 electronic table games, and a sportsbook.
The Louisville Travel Plaza will be the tribe's fourth casino, albeit its smallest. The name is a working concept only, as the tribe is calling on its members to determine its permanent identity. Ben says the permanent name will be decided before the casino and travel plaza opens in the summer of 2024.
Upon completion, the facility is expected to employ approximately 100 people.
"I am excited for both the Crystal Ridge community nearby and for the Winston County/City of Louisville community. We have a wonderful working relationship and as tribal chief for the Mississippi Band of Choctaw Indians, it is a great moment for me that we can work together to collectively better provide for our people," Ben declared.
Tribal Gaming Expansion
The roughly 18 acres of land the gaming venue and truck stop is being constructed on has been owned by the tribe and in the federal trust since the 1960s. Tribal lands must be taken into trust by the federal Department of the Interior for the land to qualify to house tribal gaming operations.
It's not a new property and we've been taking care of the land and now we are able to utilize it in a different form and business," Ben explained.
Though Louisville is a small remote town, the tribe's forthcoming casino will be just a short 25-mile drive from Starkville, where Mississippi State University is located. Starkville is home to about 25K residents, but weekends during fall college football games see tens of thousands of visitors flock to the region.