Published: August 8, 2023, 08:16h. 
Last updated: August 8, 2023, 08:16h.
The New York Yankees are facing a critical point in their season as they place starting pitcher Carlos Rodon on the injured list due to a hamstring injury.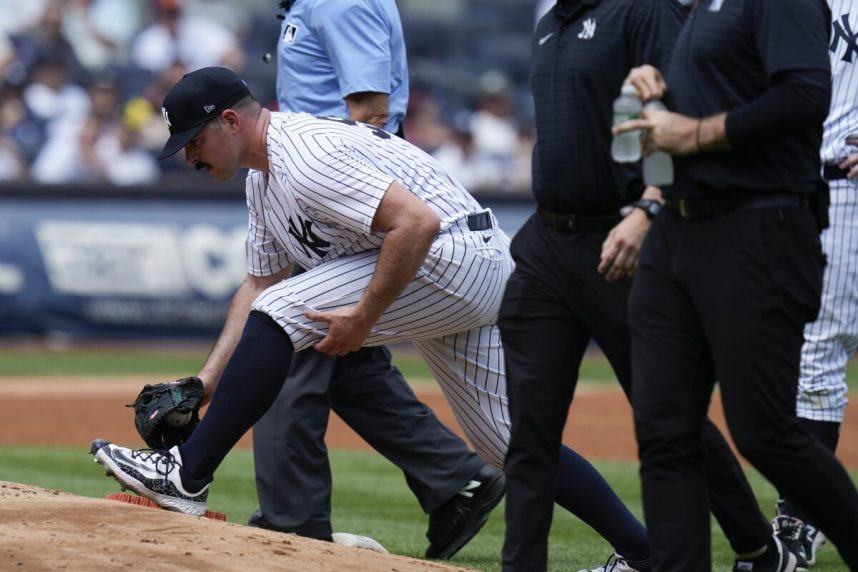 During their recent game against the Houston Astros, manager Aaron Boone made the decision to remove Rodon in the third inning after he displayed discomfort during a couple of pitches.
"I felt it grab," Rodon told reporters after the loss. "It felt like a cramp, then it did it again. After that, it felt fine, so it was more of a precautionary type thing."
Rodon underwent an MRI on Monday, which revealed a strained left hamstring, leading to the Yankees placing him on the injured list for 15 days.
"It's a low-grade strain," confirmed Boone.
Rookie right-hander Jhony Brito is expected to take Rodon's place in the starting rotation until he recovers. Brito has made 14 appearances and started 12 games this season, with a record of 4-5, an ERA of 5.02, and a WHIP of 1.34.
Struggles for Rodon since July Debut
During the offseason, the left-handed Rodon was one of the top free-agent starters available, and the Yankees signed him to a six-year, $162 million deal, expecting him to be a strong addition to their rotation behind ace Gerrit Cole.
Rodon suffered a left forearm injury during Spring Training and was shut down as a precaution. He experienced a setback in April when chronic back pain flared up during his rehab. In early May, Rodon received a cortisone shot, but the pain persisted, causing him to miss three months of the regular season.
After making his debut in July, Rodon has been a disappointment, with a record of 1-4, an ERA of 7.33, and a WHIP of 1.52. The Yankees have only won one of the six games he has started.
"I'm pretty frustrated," said Rodon. "This is not the way I wanted to come out here and perform. I'm pretty frustrated with how I'm performing."
In just 27 innings this season, Rodon has given up eight home runs. By comparison, he only allowed 12 home runs in 178 innings last season.
Time Running Out for the Yankees
The Yankees have been plagued by serious injuries to their pitching staff since Spring Training, and their misfortune has carried into the regular season. As a result, they currently sit in last place in the American League East.
Rodon's injury comes shortly after starting pitcher Domingo German left the team to enter a treatment facility for alcohol abuse.
Right-handed starter Luis Severino is also struggling, with a record of 2-6 this season, an ERA of 7.74, and a WHIP of 1.85. The Yankees have lost eight of his last 11 starts.
Randy Vasquez, a right-handed rookie, may be called up to replace Severino in the rotation. In three spot starts this season, Vasquez has a record of 1-1, an ERA of 1.17, and a WHIP of 1.04.
Despite their challenges, the Yankees have received some much-needed reinforcements for their playoff push. Crafty left-handed starter Nestor Cortes has returned after missing two months with a left shoulder injury.
The Yankees have also reinstated right-handed reliever Jonathan "Johnny Lasagna" Loaisiga from the 60-day injured list. Loaisiga underwent surgery to remove a bone spur in early April.
Currently, the Yankees (58-55) are 5.5 games behind in the AL Wild Card race with 49 games remaining. The Seattle Mariners (60-52) and Boston Red Sox (58-54) are currently ahead of them in the race for the final playoff spot.
According to a postseason projection by FanGraphs, the Yankees have a 14% chance of reaching the playoffs, but less than a 1% chance of winning the World Series.
The Yankees' World Series odds have dropped to +6000, and their odds of winning the AL pennant are now +3500.
In a popular prop bet by DraftKings, the Yankees are listed at +550 odds to make the playoffs, but they are also favored to miss the postseason at -750 odds.