Date: October 27, 2023, 04:38h. 
Last Updated: October 27, 2023, 04:38h.
Breaking News: Tropicana Las Vegas Casino Hotel Demolition Could Happen in Late 2024 If Oakland Athletics Move to Las Vegas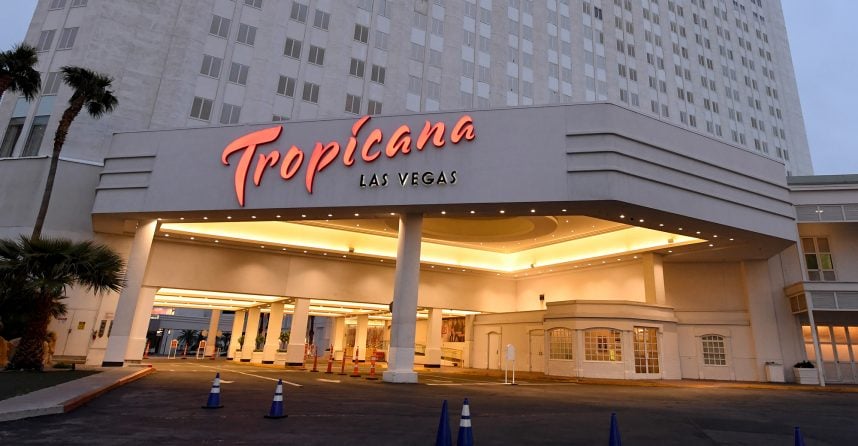 According to senior vice president of operations at Mortenson McCarthy, Ross Edwards, the construction of a new MLB stadium in Las Vegas needs to begin by April 2025 at the latest, in order to be ready for the 2028 season. If the Oakland Athletics proceed with their move to Sin City, demolition of the Tropicana Las Vegas casino hotel could take place in late 2024.
Earlier this year, a binding agreement was announced between Tropicana operator Bally's and the A's, allowing for the development of a new MLB stadium on the land occupied by the iconic Strip casino resort. Tropicana's lifespan is estimated to be 18 to 24 months.
The A's previously had a binding agreement with Red Rock Resorts for a site near the Tropicana, but it fell through due to the higher amount of public financing required. Building a stadium on Tropicana's land would cost $395 million, compared to $500 million for the other site.
Tropicana's Fate Tied to A's and Bally's
Gaming and Leisure Properties (NASDAQ: GLPI) COO Brandon Moore stated that the Tropicana process is largely driven by the A's and Bally's, as they are key players in the matter. However, as the owner of the real estate, GLPI's perspective is relevant to all stakeholders. The real estate investment trust (REIT) has already committed $175 million in financing for the stadium project and has the potential to increase that amount in the future.
"We've committed to a minimum investment number to help demolish and clear the site and to do a little bit of shared infrastructure. Whether or not we decide to invest more into that project is a decision for a later time," said Moore.
The total development costs for the stadium are estimated to be $400 million, with the majority of it being funded by the A's. The team is currently working to secure the remaining $1.1 billion needed to bring the project to life.
Possible Revival of Tropicana
GLPI has mentioned the possibility of working with Bally's to resurrect Tropicana in an updated form at the stadium site once the ballpark is completed. While the demolition of the venue is expected, it is worth noting that Bally's has plans for a major overhaul of the Tropicana.
However, with the impending demolition, a piece of Las Vegas history will be lost. The Tropicana has a storied past with ties to organized crime, including scrutiny in the late 1950s and being the target of a cash skimming operation in the late 1970s. The venue's significance even served as inspiration for the 1995 film Casino.