Posted on: October 30, 2023, 07:52h. 
Last updated on: October 30, 2023, 07:52h.
Hundreds of people gathered in Las Vegas on Sunday night to demand the release of kidnapped hostages being held by Hamas terrorists in southern Israel.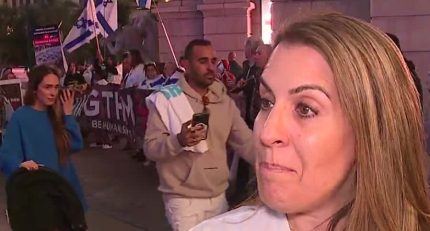 The recent "Bring Them Home Now!" rally took place outside the Forum Shops at Caesars on the Las Vegas Strip, adjacent to Caesars Palace.
Participants proudly waved Israeli and US flags and even sang the Israeli national anthem, "Hatikvah," in a show of solidarity with the embattled nation.
In a poignant display, organizers arranged 30 empty strollers on the sidewalk, each adorned with a photo of a missing child who was kidnapped.
"We demand their immediate return, unconditionally," stated Ofra Etzion, Israeli American Council regional director, as quoted by the Las Vegas Review-Journal.
Peace and Security Advocates
Among the attendees, Bill Sacco of Las Vegas also expressed his desire for the hostages to be freed.
"I want to see peace in the Middle East," he shared with the Review-Journal. "But with entities like Hamas or Hezbollah in the region, genuine peace seems impossible."
According to Reuters, Hamas currently holds 239 hostages captive in a network of tunnels located in the Gaza Strip. More than half of the captives come from 25 different countries, including the United States.
The hostages were kidnapped during a massacre orchestrated by terrorists on October 7th in southern Israel. The day of horror claimed the lives of 1,400 innocent victims, many of whom were subjected to unspeakable acts of violence in front of their families.
In recent days, some relatives of the hostages have supported the idea of exchanging them for Hamas terrorists currently imprisoned in Israel.
No Prisoner Exchange
However, the Israeli government, as well as many others, have rejected this proposal.
"The whole notion of exchanging thousands of terrorists for the life of one Jew is inherently wrong," spoke Dafna Noury of Las Vegas during the rally.
"If we were to trade for the hostages, how can we prevent future incidents like this until we eliminate Hamas?" added Marjie Shapiro, a resident of Las Vegas. "And can we truly trust Hamas?"
Thus far, only four of the kidnapped hostages have been released by Hamas.
Currently, Israeli military forces are actively targeting Hamas leadership and infrastructure in the Gaza Strip. The ongoing conflict has resulted in casualties on both sides, and humanitarian aid has been slowly reaching Gaza residents.
As this complex situation unfolds, acts of violence and threats against Jews have spread to various parts of the world, including the United States.