Posted on: August 23, 2023, 09:10h. 
Last updated on: August 23, 2023, 09:10h.
The Tampa Bay Buccaneers are set to start Baker Mayfield as their quarterback in Week 1 against the Minnesota Vikings in the season opener.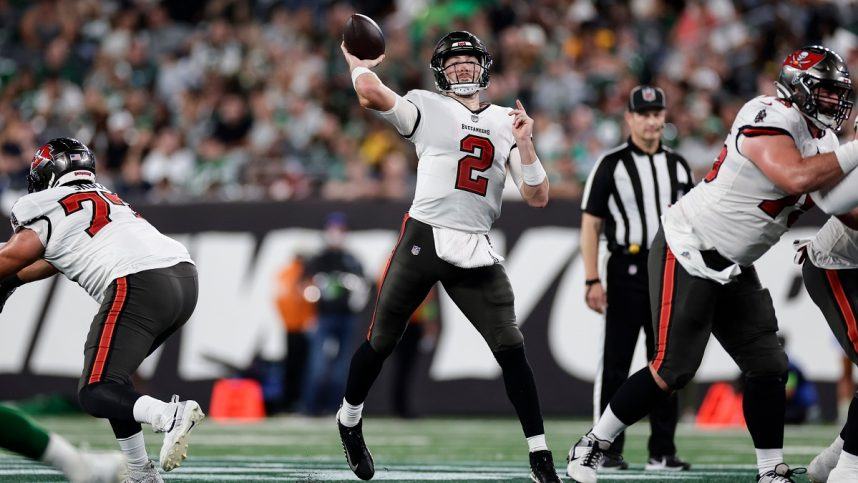 Mayfield has been chosen over Kyle Trask as the starting quarterback, with head coach Todd Bowles entrusting him to succeed Tom Brady.
"I've just got to lead like I know how, and the real thing is right around the corner," said Mayfield. "It's an exciting time."
Mayfield, a former #1 pick in the 2018 NFL Draft, had a successful collegiate career and even won the Heisman Trophy in 2017. Despite concerns about his physical attributes, the Cleveland Browns took a chance on him in the draft.
During his time with the Browns, Mayfield achieved a modest record of 29-30 as a starter, throwing 92 touchdowns and 68 interceptions with a completion rate of 61.6%.
A Last Chance for Mayfield
After being traded and released by multiple teams, Mayfield found a new opportunity with the Tampa Bay Buccaneers following Tom Brady's retirement. He signed a one-year contract worth $4 million, with potential incentives to earn up to $8.5 million.
Heading into training camp, Mayfield faced competition from Trask for the starting quarterback position. However, his preseason performance earned him the role as the team's starting quarterback.
"Baker's our starting quarterback, Kyle's our number two," Bowles confirmed. "We love everything Kyle has done, but Baker's our guy right now experience-wise and understanding the playbook a little bit better."
Trask the Backup… for Now
Trask, a second-year player out of Florida, is currently designated as the backup quarterback. Although the team believes he has potential, they feel he's not yet ready to be the starting quarterback.
If Mayfield fails to perform, Trask will be given a chance to step up. The Buccaneers also have backup quarterback John Wofford, who previously played for the Los Angeles Rams.
Betting on the Tampa Bay Buccaneers
Despite being the defending NFC South champions, the Buccaneers face challenges in the division. Currently, they have +800 odds to win the NFC South, with the New Orleans Saints favored at +120 odds and the Atlanta Falcons at +215 odds.
The Buccaneers have a season win total of 6.5, the lowest in the NFC South. They are also considered a long shot to make the playoffs, with -500 odds against them qualifying and +400 odds in favor.
In their Week 1 matchup against the Minnesota Vikings, the Buccaneers will enter as a +6.5 road underdog at U.S. Bank Stadium.